Donald Trump prepares for his return to Facebook and Twitter
Trump's presidential campaign formally petitioned Facebook's parent company Tuesday to unblock his account, according to a letter reviewed by NBC News.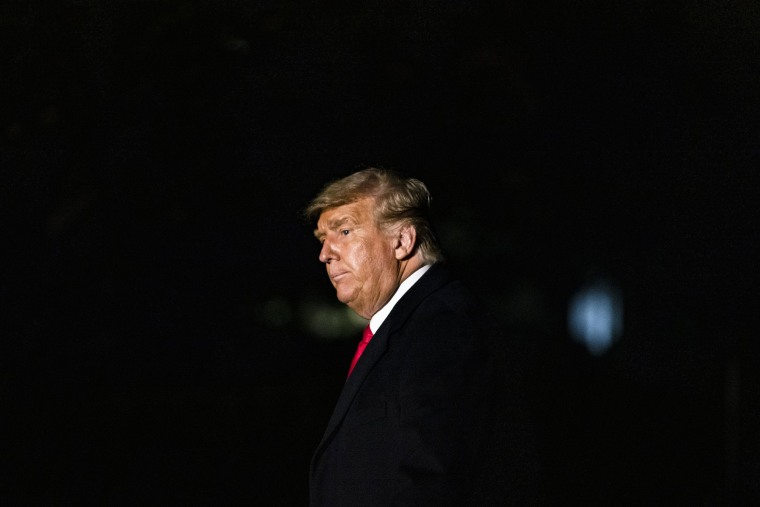 Then-President Donald Trump returns to the White House on Oct. 19, 2020.Samuel Corum / Getty Images file
Link copiedSAVECreate your free profile or log in to save this article
Jan. 18, 2023, 6:00 AM -08
By Marc Caputo and Jonathan Allen
Mounting a comeback for the White House, Donald Trump is looking to regain control over his powerful social media accounts.
With access to his Twitter account back, Trump's campaign is formally petitioning Facebook's parent company to unblock his account there after it was locked in response to the U.S. Capitol riot two years ago.
"We believe that the ban on President Trump's account on Facebook has dramatically distorted and inhibited the public discourse," Trump's campaign wrote in its letter to Meta on Tuesday, according to a copy reviewed by NBC News.
Trump's campaign didn't threaten a lawsuit, as some sources close to Trump thought he would. It instead talked about the importance of free speech and petitioned Meta for a "meeting to discuss President Trump's prompt reinstatement to the platform."
A Meta spokesperson declined to comment about Trump beyond saying the company "will announce a decision in the coming weeks in line with the process we laid out."
Facebook and Twitter banned Trump a day after a mob of his supporters — many of whom have admitted in federal court that they were whipped up by his lies of a stolen election — stormed the Capitol and interfered with Congress as it was counting the electoral votes to certify Joe Biden's 2020 presidential victory.
Facebook ultimately decided to institute a limited ban on Trump that would come up for review after two years, starting Jan. 7 of this year.
Twitter planned a permanent ban, but new owner Elon Musk reinstated Trump's account on Nov. 19 and then criticized the company's previous leadership for the ban.
Trump, however, hasn't yet tweeted.
"Trump is probably coming back to Twitter. It's just a question of how and when," said a Republican who spoke on condition of anonymity to discuss private conversations with Trump about returning to the platform. "He's been talking about it for weeks, but Trump speaks for Trump, so it's anyone's guess what he'll do or say or when."
Another Trump confidant who also didn't want to be identified speaking about conversations with him said that Trump has sought input for weeks about hopping back on Twitter and that his campaign advisers have also workshopped ideas for his first tweet.
Some advisers said Trump might be limited in posting o