Does the Justice Department want to charge Trump? Here's what could happen.
A person familiar with the matter told NBC News there have been conversations inside DOJ about the implications of pursuing a case against the ex-president, should it come to that.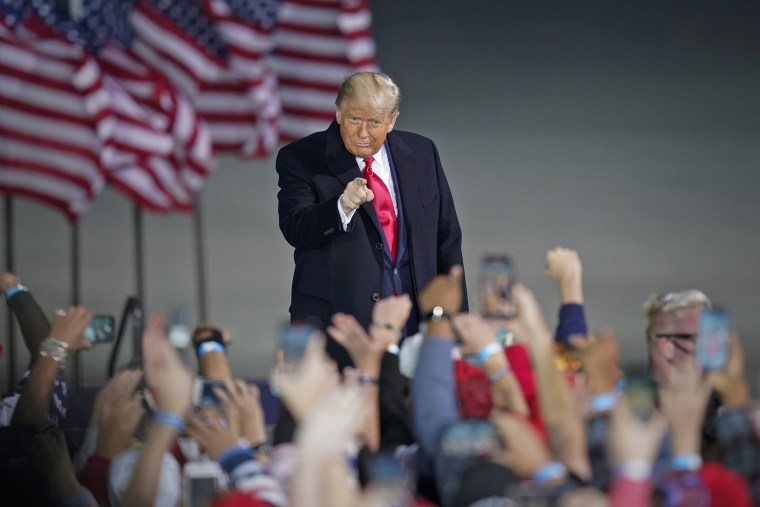 President Donald Trump arrives at a campaign rally at Des Moines International Airport on Oct. 14, 2020.Charlie Neibergall / AP file
Link copiedSAVECreate your free profile or log in to save this article
June 11, 2022, 3:00 AM MST
By Ken Dilanian
Liz Cheney's powerful remarks at Thursday night's Jan. 6 congressional hearing on the insurrection at the U.S. Capitol — which sounded a lot like a lawyer's opening statement at a criminal trial — have renewed a debate in legal circles about whether the Justice Department could, and should, prosecute Donald Trump.
With a growing body of evidence that Cheney and others say points to criminal acts involving Trump's efforts to overturn the 2020 election results, Attorney General Merrick Garland may ultimately be faced with an excruciatingly difficult decision about whether prosecuting a former president is in the national interest.
A person familiar with the matter told NBC News there have been conversations inside the Justice Department about the far-reaching implications of pursuing a case against Trump, should it come to that. So far, no public evidence has surfaced that the former president has become a criminal target.
"We will follow the facts wherever they lead," Garland said in his speech at Harvard University's commencement ceremony last month. His deputy, Lisa Monaco, has confirmed that prosecutors were looking into the legal ramifications for those who took part in schemes to push slates of fake Electoral College members declaring Trump the winner of states Joe Biden won.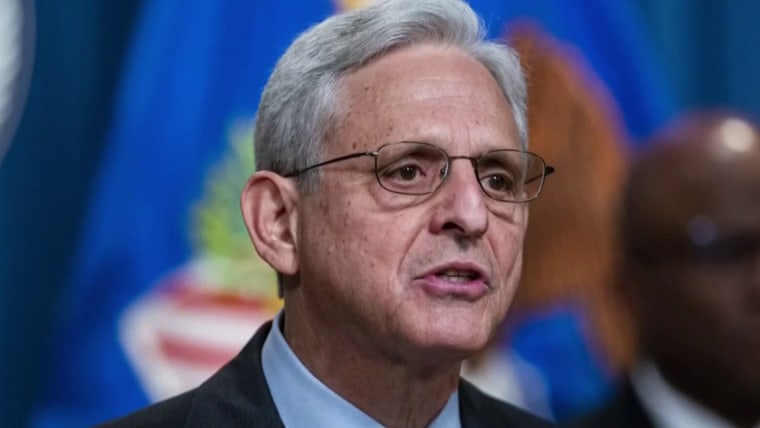 JUNE 10, 202204:22
Filing criminal charges against Trump in connection with his efforts to overturn the election "will very likely spark civil unrest, and maybe even civil war," said Barbara McQuade, an NBC legal analyst and a former U.S. attorney.
But, she said, "I think not charging is even worse, because not charging means you failed to hold someone criminally accountable who tried to subvert our democracy."
Either way, "It's a momentous and unprecedented decision — not as easy as some folks might imagine it to be," said Chuck Rosenberg, an NBC News legal analyst who is a former federal prosecutor and former head of the Drug Enforcement Administration.
The contours of a possible criminal case against Trump have been clear to legal experts for some time. A federal judge said in a ruling in a civil case in March that Trump "more likely than not" committed federal crimes in seeking to obstruct the congressional count of the Electoral College ballots on Jan. 6, 2021, citing two statutes: obstruction of an official proceeding, and conspiracy to defraud the United States.
At the time, a Trump spokesperson called the judge's assertions "absurd and baseless." Trump has consistently denied all wrongdoing.
In her opening comments, Cheney sought to lay out all the elements of what she had previously said amounted to a criminal plot.
"Over multiple months, Donald Trump oversaw and coordinated a sophisticated seven-part plan to overturn the presidential election and prevent the transfer of presidential power," she said.
As Cheney described it, Trump's alleged misconduct went far beyond allegations that he had incited the crowd that stormed the Capitol on Jan. 6. She s