Democrats celebrate retaining control of Senate as Republicans take stock
House control still undecided as Republicans lead and attention pivots to Florida, where Trump is expected to announce 2024 run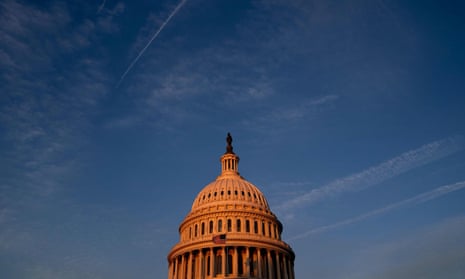 @oliverlaughlandSun 13 Nov 2022 13.29 EST
As the balance of power in the US House of Representatives remained unresolved on Sunday, Democrats are celebrating the projection that they won control of the Senate, marking a significant victory for Joe Biden as Republicans backed by his presidential predecessor Donald Trump underperformed in key battleground states.
While senior Democrats remained guarded Sunday about the chances of keeping control of both chambers of Congress, House speaker Nancy Pelosi hailed the party's performance in the midterms following months of projections indicating heavy losses.
"Who would have thought two months ago that this red wave would turn into a little tiny trickle, if that at all," Pelosi told CNN.
She added: "We're still alive [for control of the House] but again the races are close. We don't pray for victory… but you pray that God's will will be done."
As of Sunday morning Republicans remained seven seats shy of the 218 needed to win control of the House, with Democrats requiring 14, an indication that a majority on either side will be slim. As internal discussions between House Republicans intensify over potential leadership roles, with minority leader Kevin McCarthy facing opposition f