Chinese balloon high over US stirs unease down below
Chinese balloon high over US stirs unease down below
By MATTHEW BROWN and AMY BETH HANSON35 minutes ago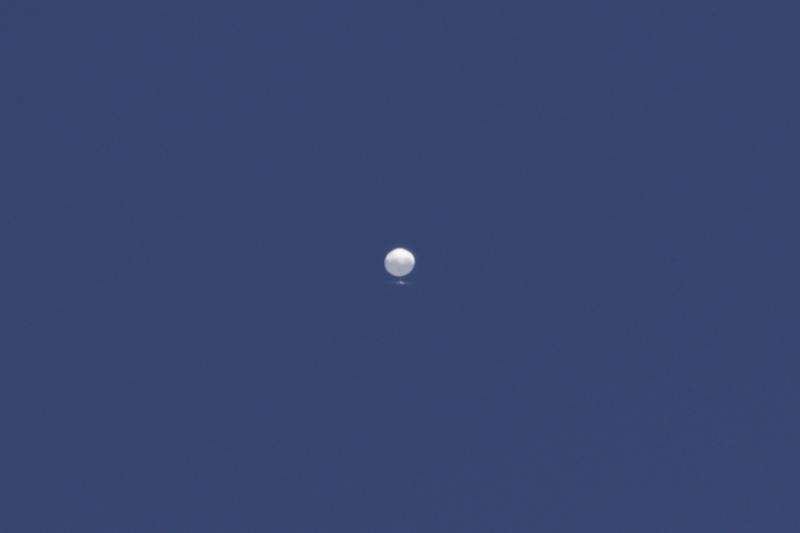 1 of 10A balloon floats over Columbia, Mo., on Friday, Feb. 3, 2023. A huge, high-altitude Chinese balloon sailed across the U.S. on Friday, drawing severe Pentagon accusations of spying despite China's firm denials. (Anna Griffin/Missourian via AP)
BILLINGS, Mont. (AP) — The Chinese balloon drifting high above the U.S. and first revealed over Montana has created a buzz down below among residents who initially wondered what it was — and now wonder what its arrival means amid a chorus of alarm raised by elected officials.
The balloon roiled diplomatic tensions as it continued to move over the central U.S. on Friday at 60,000 feet (18,288 meters). Secretary of State Antony Blinken abruptly canceled an upcoming trip to China.
Curiosity about the bobbling sky orb that's the size of three school buses swept the nation and the internet, with search terms like "where is the spy balloon now?" and "spy balloon tracker" surging on Google. There is no such tracker just yet, but a couple St. Louis TV stations offered grainy live feeds of the balloon.
Internet users posted wobbly videos and photos of white splotches in comments sections and speculative feeds. And online storm chasers, more accustomed to tracking raging systems and funnel clouds, offered updates on the balloon's path through cloudless skies.
It crossed into U.S. airspace over Alaska early this week, according to officials who spoke on condition of anonymity to discuss the sensitive topic.
ADVERTISEMENT
In Montana — home to Malmstrom Air Force base and dozens of nuclear missile silos — people doubted Beijing's claim that it was a weather balloon gone off course. And the governor and members of Congress pressed the Biden administration over why the military did not immediately bring it down from the sky.
"I question whether or not we would even found out about this if people hadn't spotted it in Billings," said Chase Doak, a resident of the southern Montana city who appears to have captured some of the first known video footage and photographs of the balloon.
A white balloon with what appeared to be a solar array hanging beneath it was seen over Billings Wednesday afternoon, around the same time the local airport was temporarily shut down and a day before the Pentagon said it was tracking a Chinese spy balloon over the state.
Initial speculation over its origins ranged from the foreign to the extra-terrestrial.
When Todd Hewett's 10-year-old son saw it over Billings he thought it was a comet. Hewett got some shaky footage, using a cellphone to take video through a telescope, and was skeptical of the Chinese claim it was a civilian balloon.
"Shoot it down," he said. "If we could somehow pierce the bottom of it to allow some of the gas to escape to allow for a more controlled descent (that) would be nice .. but if we can't do that … blow it up."
ADVERTISEMENT
Montana has some experience with balloons launched by adversaries: Japan in World War II targeted the western U.S. with incendiary "balloon bombs" that were floated over North America with plans to harm people and start forest fires. More than 30 of the bombs made of rice paper landed in Montana, according to the Montana Historical Society.
In Oregon, five children and a pregnant woman on a church picnic were killed in 1945 when they found one of the bombs and it exploded.
On Friday in Kansas City, Missouri, the National Weather Service said it received reports of a large balloon in the Kansas City metro area and posted two images of white orbs taken from the weather station office in Pleasant Hill, Missouri. The service confirmed it was not a National Weather Service balloon.
A graphic generated by a National Oceanic and Atmospheric Administration online tool was eagerly shared on Facebook, showing the balloon's trajectory sweep into the U.S. South. Local National Weather Service offices were asked on Twitter whether the balloon was theirs. No, was their answer.
ADVERTISEMENT
Tami Hansen, 44, saw the balloon overhead in Columbia, Missouri, and said she was not terribly concerned about the object flying over her city.
"I've heard all kinds of thoughts. Is it a spy balloon, is it a weather balloon? Who knows right now? It is what it is," she said. "We really try not to get too political out here," she said.
Montana U.S. Sen. Jon Tester, who chairs the Defense Appropriations Subcommittee, said he would hold a hearing to get answers from the Biden administration. He called China's actions "a clear threat."
Rep. Ryan Zinke sent a poll to constituents early Friday saying the balloon was still over the state and asking if should be shot down. When the Pentagon said the balloon had since drifted over the central U.S., Zinke raised the possibility China had more than one balloon over the U.S..
"I don't know if that's the only balloon. We've asked for those answers," he told The Associated Press. He said the balloon should have been shot down. "The message that it gives to our allies is, we're not capable of dealing with a balloon," he said.
Republicans in Montana have grown increasingly outspoken in recent years about China posing a threat to U.S. national security.
ADVERTISEMENT
javascript:"<!DOCTYPE html><html><body style='background:transparent'></body></html>"
A bill pending before the state Legislature would ban "foreign adversaries" from owning, leasing or renting critical infrastructure or farmland. The measure's sponsor singled out China as being interested in acquiring U.S. lands and resources to "help them with spying efforts."
The heavy anti-China sentiment marks a shift from a just a few years ago, when Montana U.S. Sen. Steve Daines visited China, hosted the Chinese ambassador on a visit to a Montana ranch and helped secure a deal to export more beef to China.
The beef deal later fell through, and the Republican has transformed into a strong critic of China.
Daines on Friday rejected the Pentagon's contention that it was too dangerous to bring the balloon down over Montana. He told reporters there would have been "no better place" than his sparsely populated home state.
"You've got higher odds of hitting a cow or a prairie dog or an antelope than you would of hitting any kind of a structure or a person," he said.
___
Associated Press writers Margaret Stafford in Liberty, Missouri; Alina Hartounian in Phoenix; and Lolita Baldor in Washington contributed to this report.
ADVERTISEMENT
You May Like
Wait, Did Bombas Just Reinvent the Holiday Sock?Promoted: Bombas
A 60-year-old grandmother designed a bra for elderly women that is popular all over the worldPromoted: mociyo
The Oldest Stars Still Alive in 2023.Promoted: Mighty Scoops
M*A*S*H: 15 Hidden Details You Never NoticedPromoted: Definition
ADVERTISEMENT
You May Like
US may lift protections for Yellowstone, Glacier grizzlies
Ooni Pizza OvensMake restaurant style pizza at home with an Ooni oven, no matter the weather
Chinese balloon soars across US; Blinken scraps Beijing trip
Sorry, not sorry: Some 1/6 rioters change tune after apology
Pentagon: Chinese spy balloon spotted over Western US
Read more
Forget Retinol, Use This Household Item To Fill In Wrinkles
How To Have Your Best Skin In Your 40s, 50s, And 60s
Ad Content
These Socks Were Made to MoveBombas
Your Memory Is Excellent If You Can Name Just 12 Of These People Correctlybonvoyaged.com
Stealth Angel 2 Person Emergency Kit / Survival Bag (72 Hours)Stealth Angel Survival
If you own a mouse, you have to try this game. No Install. Play for free.Combat Siege
Medicare – No Cost 8 COVID-19 At-Home Test Kit – Your eTestwww.youretest.com
Where Are The 5G Cell Towers Near Me?5G Tower Locations
Ad Content
How Tinnitus Was Cured 30 Years Ago (And Why Nobody Told You) Promoted: Hearing Aid
Say Hello to the Next Generation of Outdoor Cooking Technology.Promoted: Ooni Pizza Ovens
Volkswagen has done it again. This new VW Bus has left us speechlessPromoted: Volkswagen Deals | Top Searches
Eye drops recalled after US drug-resistant bacteria outbreakNEW YORK (AP) — U.S. health officials said Thursday a company is recalling its over-the-counter eye drops that have been linked to an outbreak of drug-resistant infections.yesterday
AP NEWS
Cookie Settings
DOWNLOAD AP NEWS
Connect with the definitive source for global and local news
MORE FROM AP
FOLLOW AP
THE ASSOCIATED PRESS
All contents © copyright 2023 The Associated Press. All rights reserved.