<div><br class="Apple-interchange-newline">https://apnews.com/article/europe-china-cuba-diplomacy-beijing-dedcf1ce9138278b5ac5843070036398</div>
Click to copy
RELATED TOPICS
China's Xi pledges support for Cuba on 'core interests'
yesterday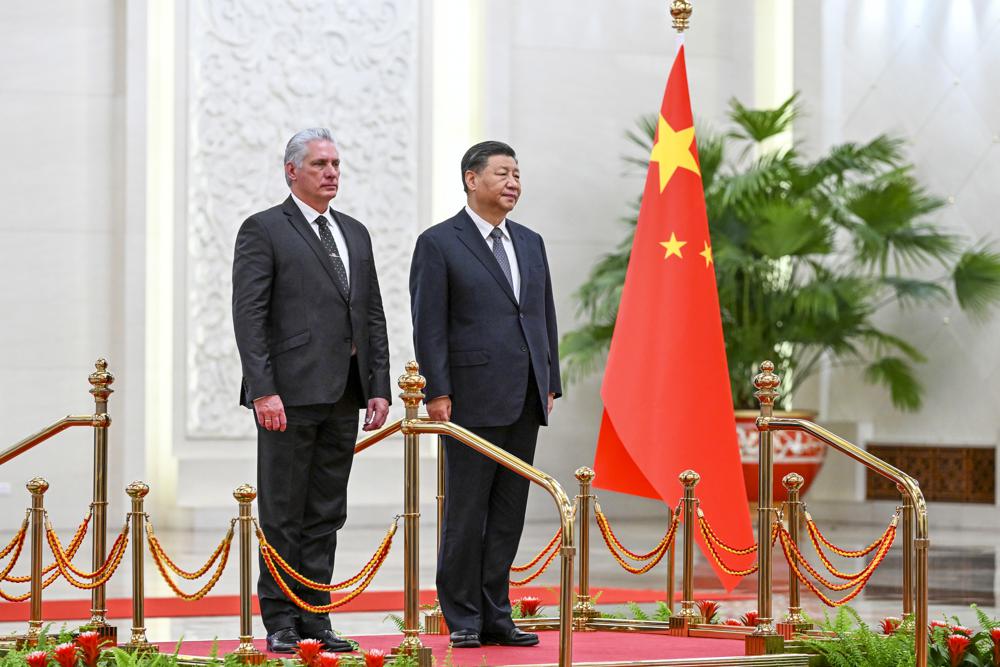 1 of 4
In this photo released by China's Xinhua News Agency, Cuba's President Miguel Diaz-Canel Bermudez, left, and Chinese President Xi Jinping stand during a welcome ceremony at the Great Hall of the People in Beijing, Friday, Nov. 25, 2022. Chinese President Xi Jinping and his Cuban counterpart pledged mutual support over their fellow communist states' "core interests" Friday at a meeting further hailing a return to face-to-face diplomacy by Beijing. (Ding Lin/Xinhua via AP)
BEIJING (AP) — Chinese President Xi Jinping and his Cuban counterpart pledged mutual support over their fellow communist states' "core interests" Friday at a meeting further hailing a return to face-to-face diplomacy by Beijing.
In comments to Miguel Diaz-Canel Bermudez, Xi said China hoped to "strengthen coordination and cooperation in international and regional affairs" with Cuba. The two will "go hand in hand down the road of building socialism with each's own characteristics," Xi was quoted as saying in a Chinese government news release.
China generally defines core interests as the defense of its economic and political development aims, along with control over territory it claims, especially self-governing Taiwan.
No specific issues or other countries were mentioned in the Chinese government news release.
Diaz-Canel's visit is a further sign of how China is trying to jump-start its in-person diplomacy after a virtual shutdown of such exchanges during the pandemic.