China's 26-storey pig skyscraper ready to slaughter 1 million pigs a year
The world's biggest single-building pig farm has opened in Hubei province, but critics say it will increase the risk of larger animal disease outbreaks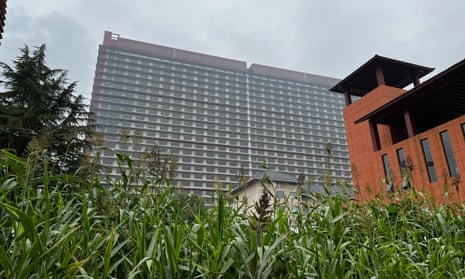 Animals farmed is supported by
Guardian staffFri 25 Nov 2022 06.30 EST
On the southern outskirts of Ezhou, a city in central China's Hubei province, a giant apartment-style building overlooks the main road. But it is not for office workers or families. At 26 storeys it is by far the biggest single-building pig farm in the world, with a capacity to slaughter 1.2 million pigs a year.
This is China's answer to its insatiable demand for pork, the most popular animal protein in the country.
The new skyscraper-sized farm began production at the start of October when the company behind the facility – Hubei Zhongxin Kaiwei Modern Farming – admitted its first 3,700 sows into the farm.
Zhongxin Kaiwei is a newcomer to the pig sector – and farming. It started out as a cement investor, with multiple cement factories in provinces such as Hubei and Henan. One of them, Hubei Xinshiji Cement, is next to the new pig farm.
The company has said that it originally planned to invest in ready-to-cook food production, but that it changed its mind after a slump in the cement and construction industries in China. Jin Lin, the general manager of the company, has said that the company saw modern agriculture as a promising sector and an opportunity to use its own construction materials to build the pig farm.https://interactive.guim.co.uk/maps/embed/nov/2022-11-10T11:43:47.html
Advertisement
According to state