China gears up for military drills after Pelosi visit to Taiwan
By Robert Plummer
BBC News
Share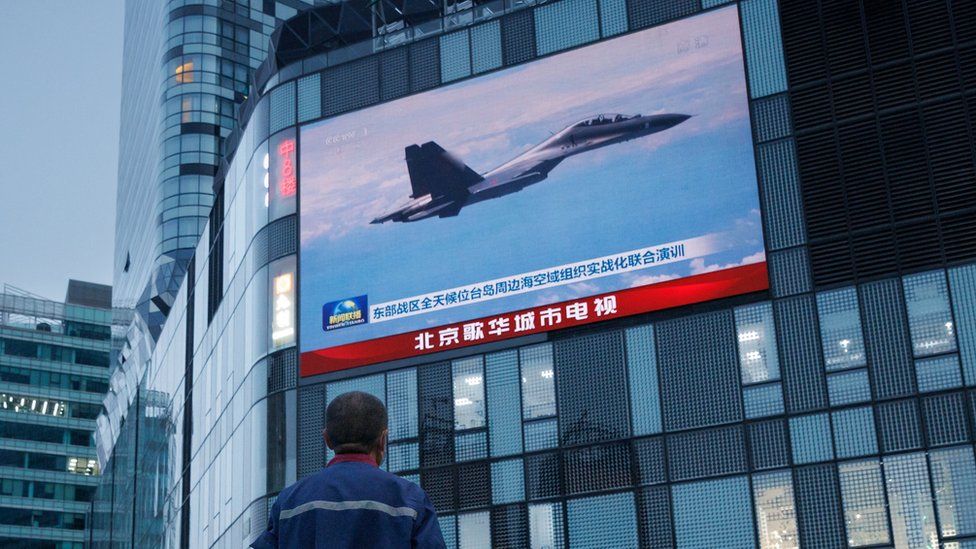 China is gearing up for big military exercises in the seas around Taiwan following top US politician Nancy Pelosi's trip to the island.
The drills are due to begin at 12:00 local time (04:00 GMT) and in several areas are due to take place within 12 miles of the island.
Taiwan faced "deliberately heightened military threats", President Tsai said.
Ms Pelosi made a brief but controversial visit to Taiwan, which China regards as a breakaway province.
The drills – China's biggest ever around Taiwan – are Beijing's main response to the visit, although it has also blocked some trade with the island.
The exercises will take place in busy waterways and will include long-range live ammunition shooting, Beijing says.
Taiwan said it scrambled jets to warn off Chinese warplanes on Wednesday.
Its military had also fired flares to drive away unidentified aircraft, probably drones, which were flying over the Kinmen islands, located close to the mainland,
Taiwan's defence ministry also said it had suffered cyber attacks, following similar attacks on other government websites earlier in the week.
Taiwan has asked ships to find alternative routes to avoid the drills and is negotiating with neighbouring Japan and the Philippines to find alternative aviation routes.
US National Security Advisor Jake Sullivan said the military drills were irresponsible and warned they could spiral out of control.
The US hoped Beijing would avoid "escalation that could lead to a mistake or miscalculation" in the air or on the seas, he said in an interview with National Public Radio on Wednesday.
40 total views