Boeing bids farewell to an icon, delivers last 747 jumbo jet
Boeing bids farewell to an icon, delivers last 747 jumbo jet
By GENE JOHNSONan hour ago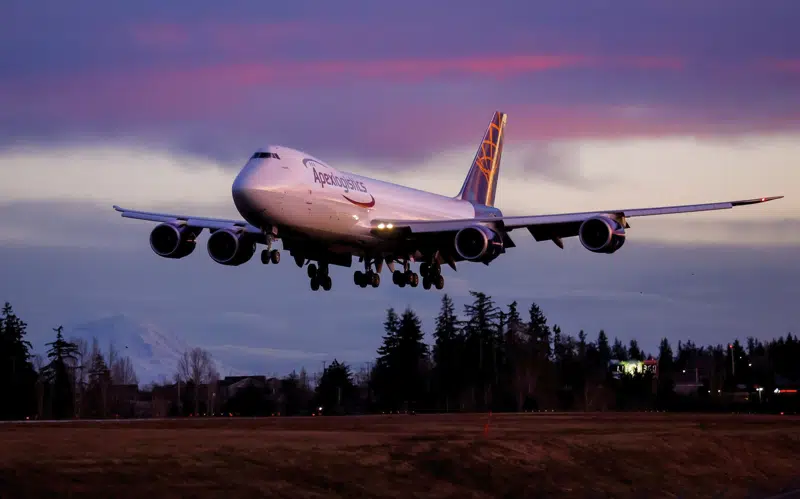 The final Boeing 747 lands at Paine Field following a test flight, Tuesday, Jan. 10, 2023, in Everett, Wash. Boeing bids farewell to an icon on Tuesday, Jan. 31, 2023, when it delivers the jumbo jet to cargo carrier Atlas Air. Since it debuted in 1969, the 747 has served as a cargo plane, a commercial aircraft capable of carrying nearly 500 passengers, and the Air Force One presidential aircraft, but it has been rendered obsolete by more profitable and fuel-efficient models. (Jennifer Buchanan/The Seattle Times via AP)
SEATTLE (AP) — Boeing bids farewell to an icon on Tuesday: It's delivering its final 747 jumbo jet.
Since its first flight in 1969, the giant yet graceful 747 has served as a cargo plane, a commercial aircraft capable of carrying nearly 500 passengers, a transport for NASA's space shuttles, and the Air Force One presidential aircraft. It revolutionized travel, connecting international cities that had never before had direct routes and helping democratize passenger flight.
But over about the past 15 years, Boeing and its European rival Airbus have introduced more profitable and fuel efficient wide-body planes, with only two engines to maintain instead of the 747′s four. The final plane is the 1,574th built by Boeing in the Puget Sound region of Washington state.
A big crowd of current and former Boeing workers is expected for the final send-off. The last one is being delivered to cargo carrier Atlas Air.
ADVERTISEMENT
"If you love this business, you've been dreading this moment," said longtime aviation analyst Richard Aboulafia. "Nobody wants a four-engine airliner anymore, but that doesn't erase the tremendous contribution the aircraft made to the development of the industry or its remarkable legacy."
Fed, set to impose smaller hike, may hint of fewer increasesIMF upgrades outlook for the global economy in 2023Will Europe's ban on Russian diesel hike global fuel prices?California is lone holdout in Colorado River cuts proposal
Boeing set out to build the 747 after losing a contract for a huge military transport, the C-5A. The idea was to take advantage of the new engines developed for the transport — high-bypass turbofan engines, which burned less fuel by passing air around the engine core, enabling a farther flight range — and to use them for a newly imagined civilian aircraft.
It took more than 50,000 Boeing workers less than 16 months to churn out the first 747 — a Herculean effort that earned them the nickname "The Incredibles." The jumbo jet's production required the construction of a massive factory in Everett, north of Seattle — the world's largest building by volume.
The plane's fuselage was 225 feet (68.5 meters) long and the tail stood as tall as a six-story building. The plane's design included a second deck extending from the cockpit back over the first third of the plane, giving it a distinctive hump and inspiring a nickname, the Whale. More romantically, the 747 became known as the Queen of the Skies.
ADVERTISEMENT
Some airlines turned the second deck into a first-class cocktail lounge, while even the lower deck sometimes featured lounges or even a piano bar.
"It was the first big carrier, the first widebody, so it set a new standard for airlines to figure out what to do with it, and how to fill it," said Guillaume de Syon, a history professor at Pennsylvania's Albright College who specializes in aviation and mobility. "It became the essence of mass air travel: You couldn't fill it with people paying full price, so you need to lower prices to get people onboard. It contributed to what happened in the late 1970s with the deregulation of air travel."
The first 747 entered service in 1970 on Pan Am's New York-London route, and its timing was terrible, Aboulafia said. It debuted shortly before the oil crisis of 1973, amid a recession that saw Boeing's employment fall from 100,800 employees in 1967 to a low of 38,690 in April 1971. The "Boeing bust" was infamously marked by a billboard near the Seattle-Tacoma International Airport that read, "Will the last person leaving SEATTLE — Turn out the lights."
ADVERTISEMENT
An updated model — the 747-400 series — arrived in the late 1980s and had much better timing, coinciding with the Asian economic boom of the early 1990s, Aboulafia said. He recalled taking a Cathay Pacific 747 from Los Angeles to Hong Kong as a twentysomething backpacker in 1991.
"Even people like me could go see Asia," Aboulafia said. "Before, you had to stop for fuel in Alaska or Hawaii and it cost a lot more. This was a straight shot — and reasonably priced."
Delta was the last U.S. airline to use the 747 for passenger flights, which ended in 2017, although some other international carriers continue to fly it, including the German airline Lufthansa.
Atlas Air ordered four 747-8 freighters early last year, with the final one leaving the factory Tuesday.
ADVERTISEMENT
Boeing's roots are in the Seattle area, and it has assembly plants in Washington state and South Carolina. The company announced in May that it would move its headquarters from Chicago to Arlington, Virginia, putting its executives closer to key federal government officials and the Federal Aviation Administration, which certifies Boeing passenger and cargo planes.
Boeing's relationship with the FAA has been strained since deadly crashes of its best-selling plane, the 737 Max, in 2018 and 2019. The FAA took nearly two years — far longer than Boeing expected — to approve design changes and allow the plane back in the air.
ADVERTISEMENT
You May Like
Washington: Senior Storage Unit OffersPromoted: WalletGenius
Cut Your Bill In Washington By Switching to Consumer CellularPromoted: Consumer Cellular
Achieve Your Dream Body with Belly Fat RemovalPromoted: Belly Fat Removal by Midoweb
Throat Phlegm? Your Body Is Trying To Tell You SomethingPromoted: SaneSolution
ADVERTISEMENT
You May Like
Father of 3 children who died says he forgives his wife
World Food Program USAWFP Scaling Up To Reach 3.1 Million In Ukraine
10 years after EU's 'never again' tragedy, little's changed
Bengals' Ossai laments late hit in AFC title loss to Chiefs
'24,′ 'Runaways' actor Annie Wersching has died at 45
Read more
Check out all the great savings on the latest smartphones at T-Mobile
Visit T-Mobile today to check out all the great savings on the latest smartphones
Ad Content
Washington: Where Can I Get 9% Interest On My Savings?WalletGenius
Get the Best Car Insurance Rates – Compare Quotes NowCar Insurance by Midoweb
Washington: Bathroom Vanities Huge Clearance Sale: See PricesBathroom Vanities | Search Ads
Electric Car Prices Might Surprise You (Search Here)Unsold Car | Search AD
The Killer New Volvos Will Leave You BreathlessVolvo Deals | Search Ads
Equities: why it's too early for investors to relaxabrdn
Nine cars you don't want to drive past 100,000 milesPeddle
Explore wild volcanic regionPSO2 New Genesis
AP NEWS
Cookie Settings
DOWNLOAD AP NEWS
Connect with the definitive source for global and local news
MORE FROM AP
FOLLOW AP
THE ASSOCIATED PRESS
All contents © copyright 2023 The Associated Press. All rights reserved.