Bills' Hamlin in critical condition after collapse on field
By MITCH STACY16 minutes ago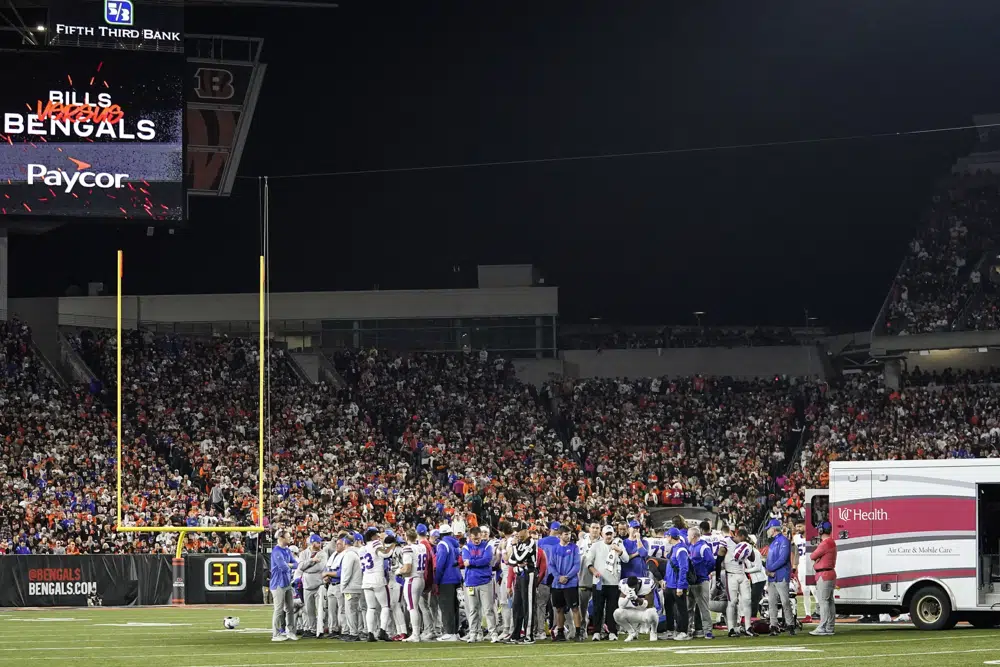 1 of 19The Buffalo Bills players pray for teammate Damar Hamlin during the first half of an NFL football game against the Cincinnati Bengals, Monday, Jan. 2, 2023, in Cincinnati. The game has been postponed after Buffalo Bills' Damar Hamlin collapsed, NFL Commissioner Roger Goodell announced. (AP Photo/Joshua A. Bickel)
CINCINNATI (AP) — Bills safety Damar Hamlin was in critical condition after he collapsed on the field Monday night, the NFL said, and Buffalo's game against the Cincinnati Bengals was suspended.
Hamlin was administered CPR on the field, ESPN reported, and he was surrounded by teammates, some of them in tears, after he was hurt while tackling Bengals receiver Tee Higgins.
Higgins led with his right shoulder, which hit Hamlin in the chest. Hamlin then wrapped his arms around Higgins' shoulders and helmet to drag him down. Hamlin got to his feet, appeared to adjust his face mask with his right hand, and then fell backward about three seconds later and lay motionless.
Hamlin was treated on the field by team and independent medical personnel and local paramedics, the NFL said, and he was taken by ambulance to University of Cincinnati Medical Center. Teammate Stefon Diggs later joined Hamlin at the hospital.
ADVERTISEMENT
About 100 Bills fans and a few Bengals fans gathered on a corner one block from the emergency room entrance with some of them holding candles.
The NFL announced more than an hour after the injury that the game would not resume.
"Our thoughts are with Damar and the Buffalo Bills. We will provide more information as it becomes available," the league said in a statement. "The NFL has been in constant communication with the NFL Players Association which is in agreement with postponing the game."
Still no clarity on Jackson's return after Ravens' lossWatson gives Browns glimpse of future with 3-TD performanceTomlin's resolve, Pickett's progress fueling Steelers' rallyPanthers' division title hopes dashed in 30-24 loss to Bucs
An ambulance was on the field four minutes after Hamlin collapsed, with many players in tears, including cornerback Tre'Davious White. The quarterbacks — Buffalo's Josh Allen and Cincinnati's Joe Burrow — embraced.
"Please pray for our brother," Allen tweeted.
Hamlin collapsed at 8:55 p.m., and when he was taken off the field about 19 minutes later, the Bills gathered in prayer. A few minutes after the ambulance left the field, the game was suspended, and players walked off the field slowly and into their locker rooms.
Hamlin's uniform was cut off and he appeared to be getting CPR from medical personnel. ESPN reported on its telecast that Hamlin was also given oxygen.
"No one's been through this," Pro Football Hall of Fame quarterback Troy Aikman said on the ESPN telecast. "I've never seen anything like it, either."
ADVERTISEMENT
The Bengals led 7-3 in the first quarter of a game between teams vying for the top playoff seed in the AFC. Cincinnati entered at 11-4 and leading the AFC North by one game over Baltimore, while AFC East champion Buffalo was 12-3.
"The NFLPA and everyone in our community is praying for Damar Hamlin," the players' union said in a statement. "We have been in touch with Bills and Bengals players, and with the NFL. The only thing that matters at this moment is Damar's health and well being."
It was unknown when or if the game would resume as the NFL enters the final week of the regular season. The outcome has major playoff implications with the wild-card round scheduled to begin on Jan. 14.
The aftermath of the injury was reminiscent of when Bills tight end Kevin Everett lay motionless on the field after making a tackle on the second-half opening kickoff in Buffalo's 2007 season-opening game against the Denver Broncos.
ADVERTISEMENT
Everett sustained a spinal cord injury that initially left him partially paralyzed.
The 24-year-old Hamlin spent five years of college at Pittsburgh — his hometown — and appeared in 48 games for the Panthers over that span. He was a second-team All-ACC performer as a senior, was voted a team captain and was picked to play in the Senior Bowl.
He was drafted in the sixth round by the Bills in 2021, played in 14 games as a rookie and then became a starter this year once Micah Hyde was lost for the season to injury.
By late Monday night, a community toy drive organized by Hamlin had surged to more than $1.2 million in donations. His stated goal was $2,500.
Kathryn Bersani and her mother, Gayle, were among the Bills fans who traveled from Buffalo for the game and went to the hospital from the stadium.
"This is our family Christmas," Kathryn Bersani said. "We thought it would be a great game. Joe (Burrow) and Josh (Allen) are such great men. Sad, sad time. Such a shock. I just hope he can live a normal life. It stunned us."
ADVERTISEMENT
Chuck and Janet Kohl went to the hospital after watching the game at home.
"This is much more important than football," Chuck Kohl said. "Had to come and pray for Mr. Hamlin."
Entering the game, the 6-foot, 200-pound Hamlin had 91 tackles, including 63 solo tackles, and 1 1/2 sacks.
A tweet from the Pitt football account was simple and clear: "Damar Hamlin is the best of us. We love you, 3," the tweet said, referring to Hamlin by his college jersey number. "Praying for you."
___
AP freelancer Jeff Wallner, AP Pro Football Writer Rob Maaddi and AP Sports Writer John Wawrow contributed to this report.
___
AP NFL: https://apnews.com/hub/nfl and https://twitter.com/AP_NFL
ADVERTISEMENT
You May Like
Are you our next millionaire?Promoted: Chumba Casino
Let the good times rollPromoted: Chumba Casino
Researchers First Thought They Were StatuesPromoted: investing.com
If you own a mouse, you have to try this game. No Install. Play for free.Promoted: Combat Siege
ADVERTISEMENT
Ad Content
The Toyota Tacozilla Tacoma Camper – Photos From Every AngleRoad and Track
Greta Thunberg, 19 Years Old, Drives Probably The Most Expensive Car In The World Paperela
This Is National Geographic's Most Famous PhotoHistory Daily
Red Flag Symptoms of Bipolar Disorder Most People Are Unaware OfStuffAnswered
Forget running, this new workout burns 2x more caloriesMaxiClimber
4 Megatrends That Have the Potential for Disruptive ImpactCustom Content from WSJ | McKinsey
Ad Content
Electric Bikes On Clearance Sale. See This Season's Deals From Top BrandsPromoted: Electric Bikes Deals | Search Ads
Glendale, Arizona: Are You Aware Of This?Promoted: iQ Report
Killer New Volkswagen EVs Will Leave You BreathlessPromoted: New VWs | search ads
BYU offensive lineman Veikoso dies in construction accidentHONOLULU (AP) — Brigham Young University offensive lineman Sione Veikoso was killed in a construction accidentDecember 31, 2022
AP NEWS
Cookie Settings
DOWNLOAD AP NEWS
Connect with the definitive source for global and local news
MORE FROM AP
FOLLOW AP
THE ASSOCIATED PRESS
All contents © copyright 2023 The Associated Press. All rights reserved.
javascript:void(0)