Biden predicts Gisele Fetterman will be 'great, great lady in the Senate'
Biden predicts Gisele Fetterman will be 'great, great lady in the Senate'
Pennsylvania Senate candidate John Fetterman's health and ability to exercise public office have been in question after a May stroke
By Timothy H.J. Nerozzi | Fox News
President Biden predicted that Gisele Fetterman, wife of Pennsylvania Senate candidate John Fetterman, that she will be a "great lady in the senate."
Biden made the remark while visiting Pittsburgh, where he was acknowledging the renovation of a bridge that had made headlines after collapsing last year.
10 CONVICTED FIRST-DEGREE MURDERERS JOHN FETTERMAN HELPED RELEASE FROM PRISON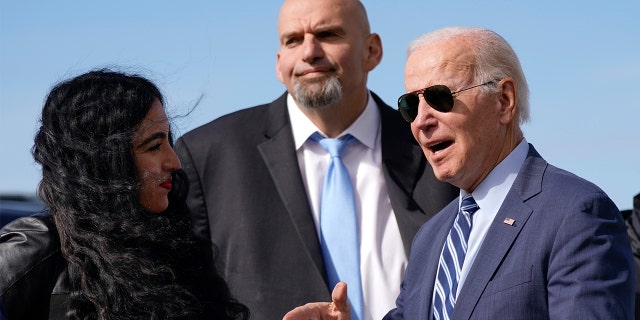 President Biden talks with Pennsylvania Lt. Gov. John Fetterman, a Democratic candidate for U.S. Senate, second from left, and his wife, Gisele Barreto Fetterman, left, as he arrives, Thursday, Oct. 20, 2022, at the 171st Air Refueling Wing at Pittsburgh International Airport in Coraopolis, Pennsylvania. (AP Photo/Patrick Semansky)
Biden thanked Fetterman, Pennsylvania's lieutenant governor, for attending the speech, saying that he would try to be brief for the sake of the lieutenant governor. During the brief acknowledgment, Biden made the comment that Fetterman's wife would do well in the Senate.