From 1h ago
Biden and Trump on campaign trail in last big push before election day
It's the last full day of election campaigning before the big vote tomorrow. US president Joe Biden and former president and Republican beacon Donald Trump will be out on the trail in a contest where so much is at stake for each of their parties – and American democracy.
It's a tough battle for the Democrats against strong economic headwinds in the shape of record inflation and fears of recession, despite the fact that such gales are howling across many other countries as well, driven by ongoing fall-out from the pandemic and the effects of Russia's invasion of Ukraine.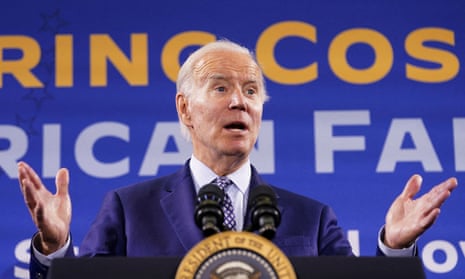 The party has been struggling against their president's low approval ratings for more than a year now – though it hopes the shock of the US Supreme Court stripping federal abortion rights when it overturned Roe v Wade in June and the threat of extremism from the right will boost their chances.
Republicans hope not only to pick up the traditional midterms backlash against the party in power but to power a "red wave" and win big, wresting the majority in both the House and Senate from the Democrats.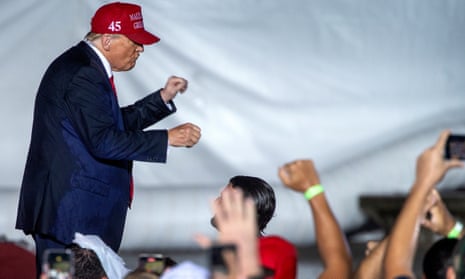 Biden is rallying in the governor's race in Maryland tonight and Trump is stumping in Ohio, where Democratic congressman Tim Ryan is battling JD Vance. Biden's warning of what will happen to the US economy if Republicans ever get a chance to wreck the healthcare and retirement benefits backbone.
Folks, there's nothing that will create more chaos and more damage to the American economy than if Republicans in Congress threaten to default on the national debt in order to sunset programs like Medicare and Social Security.— President Biden (@POTUS) November 6, 2022
We'll have a Guardian reporter at each event tonight, in Bowie, Maryland, and Dayton, Ohio.
All 435 seats in the House of Representatives are on the line, 35 out of 100 Senate seats are being contested in these midterms election.
Updated at 09.45 EST
We put a lot of focus on our live blogs, bringing you news developments and snippets of analysis on various things as they happen, whether politics, breaking news or big events, as our regular readers know.
This US politics blog will begin early tomorrow for election day and roll around the clock into Wednesday, thanks to our blogging reporters in Washington, New York, Los Angeles and London, backed by our whole team, including reporters out in the field watching voting and election night events coast to coast and sending dispatches.
But in other major rolling news coverage, we are now also blogging the vital Cop27 climate talks taking place in Egypt, which got underway yesterday. America's Al Gore earlier called out world leaders for not doing enough, treating the environment like an open sewer and enabling a "culture of death" with over-reliance on fossil fuels in the face of climate instability revving extreme weather.
And the UN chief is warning the world it's on the "highway to climate hell." You can follow the Guardian's live blog on Cop27 issues and happenings here.
Meanwhile, we're also blogging Russia's war in Ukraine. Ukraine's efforts could be affected if Republicans do too well in the midterm elections in the US and block funding for US weapons to Ukraine to resist its gigantic neighbor. The head of the so-called Wagner Russian mercenary group has also admitted persistent allegations of interference in US elections. But in terms of the war, we've been live blogging the conflict since Russia invaded in February and you can follow war news as it happens, here.
We also run a business live blog and a UK politics live blog, both reported out of the Guardian mother ship in London.
Advertisement