Arizona Sen. Kyrsten Sinema leaves Democratic Party, registers as independent
Sinema won't say whether she will caucus with Democrats
By Timothy H.J. Nerozzi , Chad Pergram | Fox News
Arizona Sen. Kyrsten Sinema has left the Democratic Party and registered as an independent.
Sinema, in a Friday op-ed in the Arizona Republic, cited increasingly partisan interests and radicalization of both political parties as the reason for her departure.
SENATORS TILLIS, SINEMA REVIVE TALKS ON POTENTIAL IMMIGRATION DEAL DURING LAME-DUCK SESSION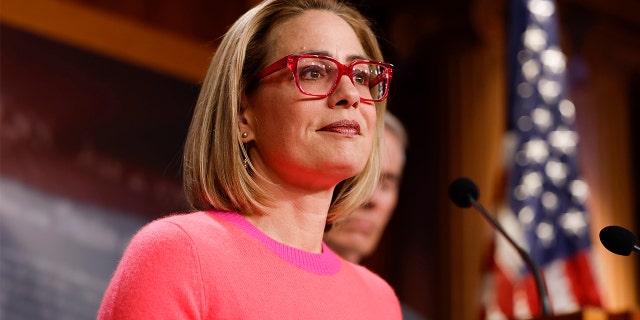 Sen. Kyrsten Sinema, D-Ariz., speaks at a news conference after the Senate passed the Respect for Marriage Act at the Capitol Building on Nov. 29, 2022, in Washington, D.C. (Anna Moneymaker/Getty Images`)
"Americans are told that we have only two choices – Democrat or Republican – and that we must subscribe wholesale to policy views the parties hold, views that have been pulled further and further toward the extremes," Sinema wrote in the op-ed.
"Most Arizonans believe this is a false choice, and when I ran for the U.S. House and the Senate, I promised Arizonans something different," she continued. "I pledged to be independent and work with anyone to achieve lasting results. I committed I would not demonize people I disagreed with, engage in name-calling, or get distracted by political drama."
SINEMA DOUBLES DOWN ON FILIBUSTER SUPPORT, DEALING LIKELY FATAL BLOW TO DEMS' ELECTION BILLS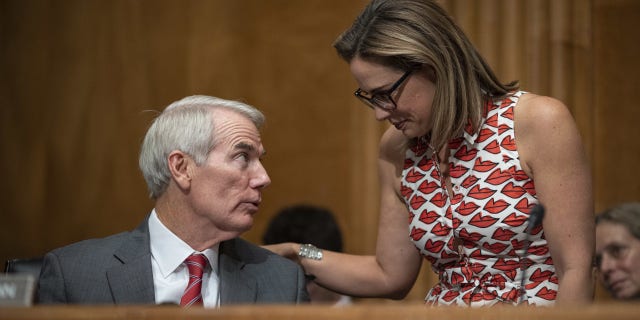 Senator Kyrsten Sinema, a Democrat from Arizona, right, speaks with Senator Rob Portman, a Republican from Ohio. (Al Drago/Bloomberg via Getty Images)
Sinema went on to accuse mainstream political parties in the U.S. of worrying more about blocking each other out than the well-being of their constituents.
The senator has been the target of e