China exports fall again as economy struggles
China exports fall again as economy struggles
Share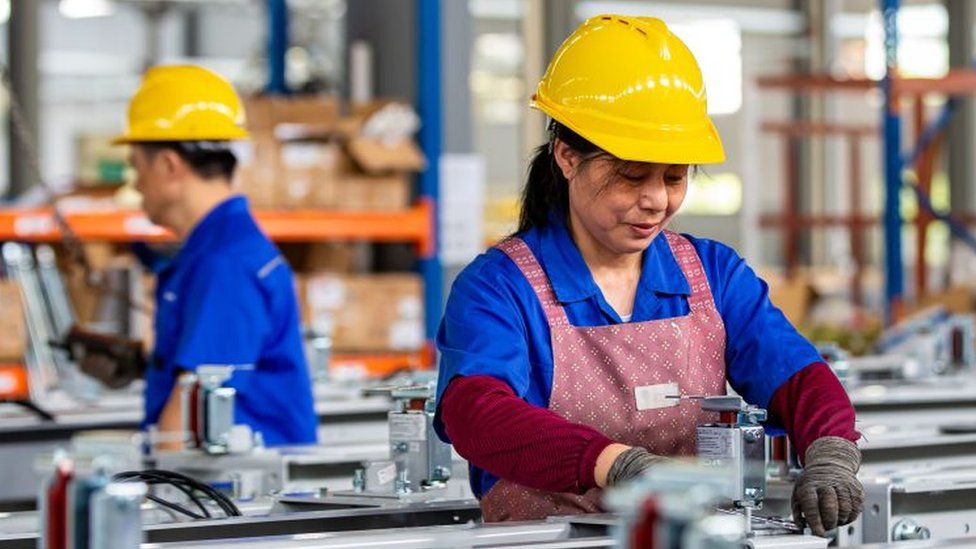 By Peter Hoskins
Business reporter
China's exports have dropped for fourth month in a row as the "world's factory" struggles with weak demand at home and abroad.
Exports fell 8.8% in August compared with a year earlier, while imports dropped 7.3%, official figures show.
However, those declines were not as bad as expected and an improvement on the previous month.
China is facing several post-pandemic challenges, including a property crisis and weak consumer spending.
ADVERTISEMENT
There has been a slump in global demand for Chinese-made goods in the wake of coronavirus and the ongoing trade dispute with the US. It is having a major impact on a key source of growth for the country's economy.
On Wednesday, a new report by the US Census Bureau showed that China's share of US goods imports fell to the lowest level since 2006 in the year to the end of July.
The share of imported goods from China was 14.6% over the period. That is down from a peak of 21.8% in the year to the end of March 2018, before then-President Donald Trump ramped up the US-China trade war.
Chinese authorities are also faced with a deepening slump in the country's real estate market as some of its biggest developers are struggling financially.
Beijing has so far avoided launching a large stimulus programme to boost the economy.
Instead it has opted for introducing a series of measures in recent months to help support people and businesses.
The country's central bank has cut interest rates, while Beijing has announced plans to allow a dozen of the country's biggest cities to cut minimum deposits for homebuyers. Lenders have also been encouraged to reduce rates on existing mortgages.
Other measures have also been announced from increasing personal income tax allowances for children's education to cutting the duty on share trading.
Ahead of the publication of the trade figures, Chinese state-run newspaper The Global Times ran a story on its English language website criticising negative comments by Western politicians and media about the country's economy.
"The reality is that Chinese economy is well on the recovery track with increasingly strong innovation and green development momentum, though the economy faces some difficulties and challenges under the impact of global economic slowdown," it said.
Related Topics
More on this story