The "Yellowstone" star's wife filed for divorce after 18 years of marriage. Kevin Costner's rep confirmed the news to NBC News on May 2.
Kevin Costner's wife Christine Baumgartner files for divorce after 18 years of marriage
The couple got married in 2004 and share three children together.
Link copied
May 2, 2023, 5:11 PM MST / Source: TODAY
By Liz Calvario and Diana Dasrath
Kevin Costner and his wife, Christine Baumgartner, have called it quits.
The "Yellowstone" star's wife filed for divorce after 18 years of marriage. Kevin Costner's rep confirmed the news to NBC News on May 2.
"It is with great sadness that circumstances beyond his control have transpired which have resulted in Mr. Costner having to participate in a dissolution of marriage action," the actor's rep states. "We ask that his, Christine's and their children's privacy be respected as they navigate this difficult time."
It is unclear what led to their separation.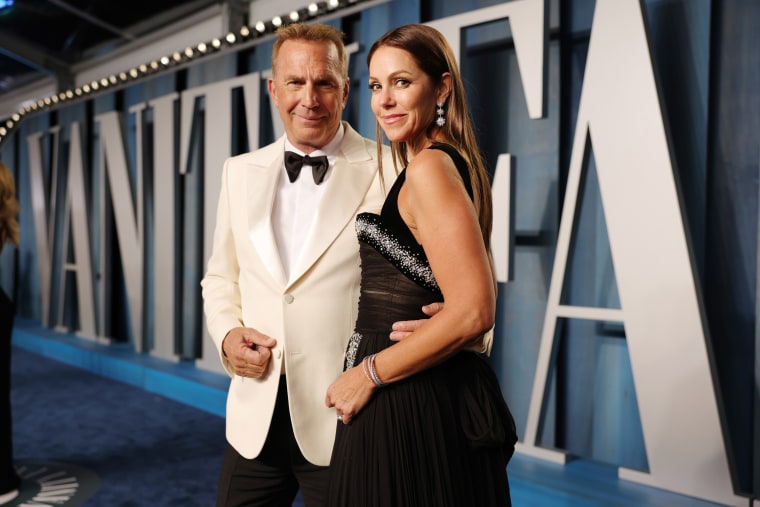 Costner and Baumgartner got married in 2004. They share three children together, sons Cayden, 15, and Hayes, 14, and daughter Grace, 12.
This is Costner's second marriage. He was previously married to Cindy Costner from 1978 to 1994. The former couple are parents to daughters Annie, 39 and Lily, 36, and son Joe, 35.
He is also father to 27-year-old son Liam, whom he had with his former partner Bridget Rooney.
News of Costner's divorce comes as talks continue about the actor returning to "Yellowstone." The 68-year-old actor plays John Dutton on the show, which premiered in 2018.
Recommended


Last month, fans wondered when the Paramount+ series would return after Costner, creator Taylor Sheridan and other cast members did not appear at the show's scheduled PaleyFest panel.
Paramount Network President of Development and Production Keith Cox said during the event he was "very confident" Costner would continue with the show though some outlets speculated online that the show might come to an end. There currently is no release date for the second half of the fifth season.
As for Costner, on May 1, he promoted his new movie, "Horizon: An American Saga," on his Instagram.
"The epic that keeps getting more epic," he wrote alongside a screenshot of his casting, while fans asked about Season Five of "Yellowstone" in the comments section.
Liz Calvario is a Los Angeles-based reporter and editor for TODAY.com who covers entertainment, pop culture and trending news. She enjoys rocking a stylish outfit, a good cup of coffee, traveling and the soulful sounds of the Backstreet Boys.
Diana Dasrath is NBC News' entertainment producer and a senior reporter.
Link copied
Sponsored Stories
YAHOO SEARCHResearch Find Advanced Macular Degeneration Treatments
GEORGETOWNLearn Cybersecurity Risk Management From Experts
Shop TODAY Bestsellers
TODAY earns a commission on purchases through these links.