China simulates hitting 'key targets' on Taiwan
China simulates hitting 'key targets' on Taiwan
Share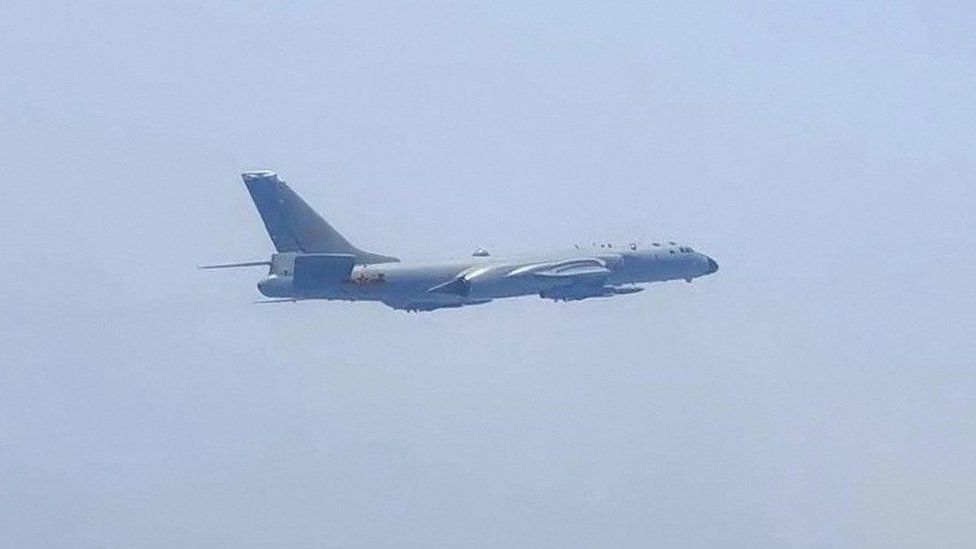 By Matt Murphy & Christy Cooney
BBC News
China has simulated precision strikes against key targets on Taiwan and its surrounding waters during a second day of military drills.
The drills – which Beijing has called a "stern warning" to the self-governing island – are a response to Taiwan's president visiting the US last week.
As the Chinese military simulated an encirclement of the island, the US urged China to show restraint.
Taiwan said about 70 Chinese aircraft flew around the island on Sunday.
ADVERTISEMENT
Eleven Chinese ships were also spotted.
On Saturday, Taiwan said that 45 warplanes either crossed the Taiwan Strait median line – the unofficial dividing line between Taiwanese and Chinese territory – or flew into the south-western part of Taiwan's air defence identification zone.
The operation, dubbed "Joint Sword" by Beijing, will continue until Monday. Taiwanese officials have been enraged by the operation.
On Saturday defence officials in Taipei accused Beijing of using President Tsai's US visit as an "excuse to conduct military exercises, which has seriously undermined peace, stability and security in the region".
On day one of the drills, one of China's ships fired a round as it sailed near Pingtan island, China's closest point to Taiwan.
Taiwan's Ocean Affairs Council, which runs the Coast Guard, issued video footage showing one of its ships shadowing a Chinese warship, though did not provide a location.
In the footage a sailor can be heard telling the Chinese ship through a radio: "You are seriously harming regional peace, stability and security. Please immediately turn around and leave. If you continue to proceed we will take expulsion measures."
Other footage showed a Taiwanese warship, the Di Hua, accompanying the Coast Guard ship in what the Coast Guard officer calls a "standoff" with the Chinese vessel.
While the Chinese exercises ended by sundown on Saturday evening, defence officials in Taipei said fighter jet sorties started again early on Sunday morning.
US state department officials have urged China not to exploit President Tsai's US visit, and have called for "restraint and no change to the status quo".
A state department spokesperson said the US was "monitoring Beijing's actions closely" and insisted the US had "sufficient resources and capabilities in the region to ensure peace and stability and to meet our national security commitments".
The US severed diplomatic ties with Taipei in favour of Beijing in 1979, but it is bound by law to provide Taiwan with the means to defend itself.
US President Joe Biden has said on several occasion that the US would intervene if China attacked the island, but US messaging has been murky.
At Wednesday's meeting in California, Ms Tsai thanked US House Speaker Kevin McCarthy for America's "unwavering support", saying it helped "reassure the people of Taiwan that we are not isolated and we are not alone".
Mr McCarthy had originally planned to go to Taiwan himself, but opted instead to hold the meeting in California to avoid inflaming tensions with China.