Ukraine is building an advanced army of drones. For now, pilots improvise with duct tape and bombs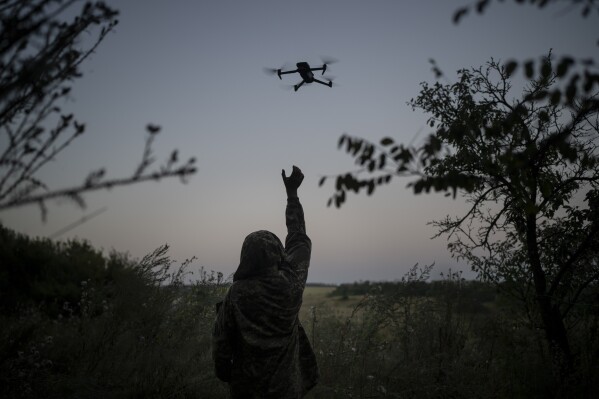 1 of 19 |
A Ukrainian drone pilot reaches for a reconnaissance drone in the Luhansk Region, Ukraine, Saturday, Aug. 19, 2023. The drone unit's task is to destroy Russia's heavy machinery, armored vehicles and infantry. (AP Photo/Bram Janssen)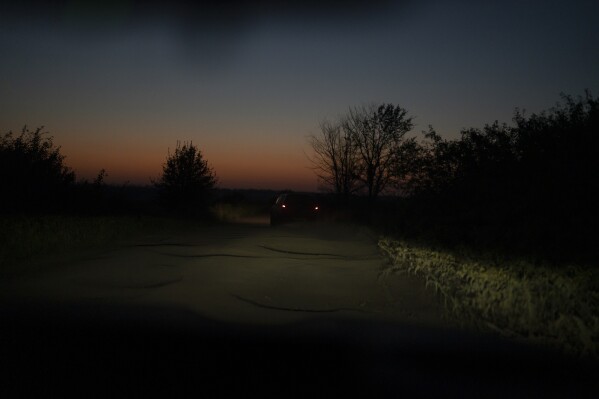 2 of 19 |
Members of a Ukrainian drone unit make their way to the front line at night in the Luhansk Region, Ukraine, Saturday, Aug. 19, 2023. The drone unit's task is to destroy Russia's heavy machinery, armored vehicles and infantry. (AP Photo/Bram Janssen)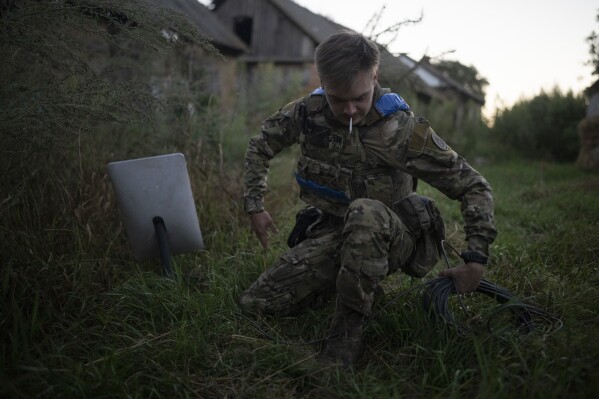 3 of 19 |
A Ukrainian serviceman nicknamed Bakeneko sets up satellite communications before a drone attack in the outskirts of Kremmina, Ukraine, Sunday, Aug. 20, 2023. (AP Photo/Bram Janssen)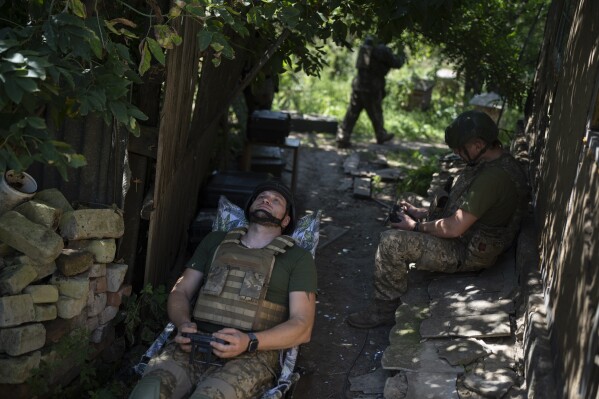 4 of 19 |
Ukrainian soldiers operate a reconnaissance drone on the front line in the Luhansk Region, Ukraine, Saturday, Aug. 19, 2023. (AP Photo/Bram Janssen)
5 of 19 |
A Ukrainian soldier prepares a bomb to attach to an exploding drone in the outskirts of Kremmina, Ukraine, Sunday, Aug. 20, 2023. (AP Photo/Bram Janssen)
6 of 19 |
Stem, a member of an elite Ukrainian drone unit, attaches a bomb to an exploding drone in the outskirts of Kremmina, Ukraine, Sunday, Aug. 20, 2023. (AP Photo/Bram Janssen)
7 of 19 |
Exploding drones loaded with shells lay inside a hay barn on the front line in the outskirts of Kremmina, Ukraine, Sunday, Aug. 20, 2023. (AP Photo/Bram Janssen)
8 of 19 |
A Ukrainian member of an elite drone unit sits inside a basement in between operations on the front line in the outskirts of Kremmina, Ukraine, Sunday, Aug. 20, 2023. The drone unit's task is to destroy Russia's heavy machinery, armored vehicles and infantry. The drone unit's task is to destroy Russia's heavy machinery, armored vehicles and infantry. (AP Photo/Bram Janssen)
9 of 19 |
A Ukrainian soldier, nicknamed Stem, presents an attack drone he just loaded with shells for a social media post in the outskirts of Kremmina, Ukraine, Sunday, Aug. 20, 2023. (AP Photo/Bram Janssen)
10 of 19 |
A Ukrainian commander who goes by the battlefield name Giocondo looks at an attack drone in the outskirts of Kremmina, Ukraine, Sunday, Aug. 20, 2023. The drone unit's task is to destroy Russia's heavy machinery, armored vehicles and infantry. The drone unit's task is to destroy Russia's heavy machinery, armored vehicles and infantry. (AP Photo/Bram Janssen)
11 of 19 |
Ukrainian servicemen of the drone unit rest inside a basement on the front line in the outskirts of Kremmina, Ukraine, Sunday, Aug. 20, 2023. The drone unit's task is to destroy Russia's heavy machinery, armored vehicles and infantry. The drone unit's task is to destroy Russia's heavy machinery, armored vehicles and infantry. (AP Photo/Bram Janssen)
12 of 19 |
A Ukrainian drone unit commander nicknamed Giocondo communicates with headquarters during an attack in the outskirts of Kremmina, Ukraine, Sunday, Aug. 20, 2023. (AP Photo/Bram Janssen)
13 of 19 |
A Ukrainian member of an elite drone unit hides before an attack in the outskirts of Kremmina, Ukraine, Sunday, Aug. 20, 2023. (AP Photo/Bram Janssen)
14 of 19 |
A Ukrainian soldier nicknamed Bakeneko wears a head-mounted display while operating an exploding drone from a basement in the outskirts of Kremmina, Ukraine, Sunday, Aug. 20, 2023. (AP Photo/Bram Janssen)
15 of 19 |
A Ukrainian member of an elite drone unit points out a Russian tank as a target during an attack in the outskirts of Kremmina, Ukraine, Sunday, Aug. 20, 2023. (AP Photo/Bram Janssen)
16 of 19 |
A Ukrainian soldier nicknamed Stem checks a loaded exploding drone before takeoff on the front line in the outskirts of Kremmina, Ukraine, Sunday, Aug. 20, 2023. (AP Photo/Bram Janssen)
17 of 19 |
A Ukrainian soldier of the elite drone unit packs up after an attack on the front line in the outskirts of Kremmina, Ukraine, Sunday, Aug. 20, 2023. The drone unit's task is to destroy Russia's heavy machinery, armored vehicles and infantry. (AP Photo/Bram Janssen)
18 of 19 |
A Ukrainian army truck passes Ukrainian soldiers of the drone unit at dusk in the outskirts of Kremmina, Ukraine, Sunday, Aug. 20, 2023. The drone unit's task is to destroy Russia's heavy machinery, armored vehicles and infantry. (AP Photo/Bram Janssen)
19 of 19 |
Stem, a member of the elite Ukrainian drone unit, attaches a bomb to an exploding drone in the outskirts of Kremmina, Ukraine, Sunday, Aug. 20, 2023. The drone unit's task is to destroy Russia's heavy machinery, armored vehicles and infantry. (AP Photo/Bram Janssen)
BY SAMYA KULLABUpdated 9:13 PM MST, September 24, 2023Share
LUHANSK REGION, Ukraine (AP) — Flying above enemy lines, a Ukrainian reconnaissance drone sends a clear image back to soldiers hiding in a basement a few kilometers away: A Russian armored vehicle is idling along a key logistics route, looking like easy prey in the artillery-scarred green landscape.
Then, in a flash, the image disappears, and the drone operator's screen is replaced by a jumble of black and white pixels.
"Snow," says a calm commander known by the battlefield name Giocondo, who allowed The Associated Press to follow him and his unit of drone pilots on condition of anonymity to protect their identities. High-tech warfare cuts two ways, and the Russians use electronic beams to disable the drone's signals.
ADVERTISEMENT
Seconds later, the drone pilot switches to a frequency the Russians cannot easily exploit. The bird's-eye image of the armored vehicle reappears, and a second drone – this one laden with explosives – is quickly launched. It zips toward the target.
OTHER NEWS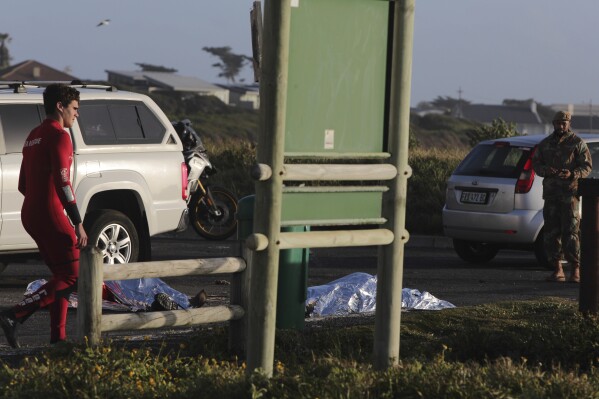 3 South Africa navy personnel die after swept off a submarine deck. 4 soldiers killed in road crash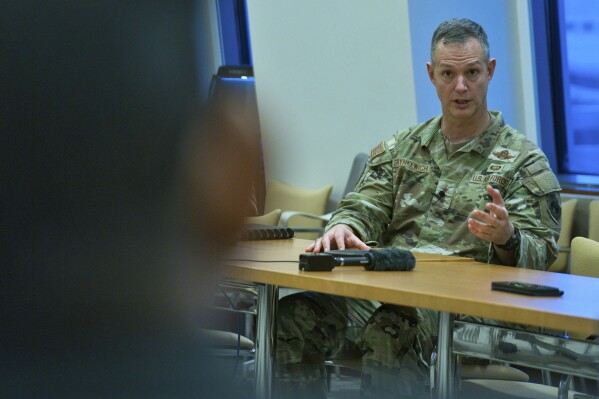 Top US Air Force official in Mideast worries about possible Russia-Iran 'cooperation and collusion'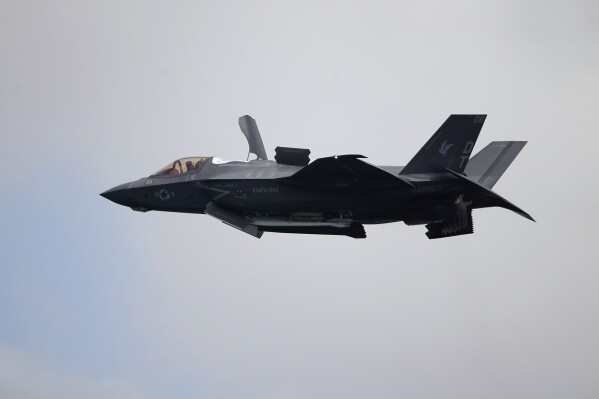 What we know about the Marine Corps F-35 crash, the backyard ejection and what went wrong