Past high-profile trials suggest stress and potential pitfalls for Georgia judge handling Trump case
Past high-profile trials suggest stress and potential pitfalls for Georgia judge handling Trump case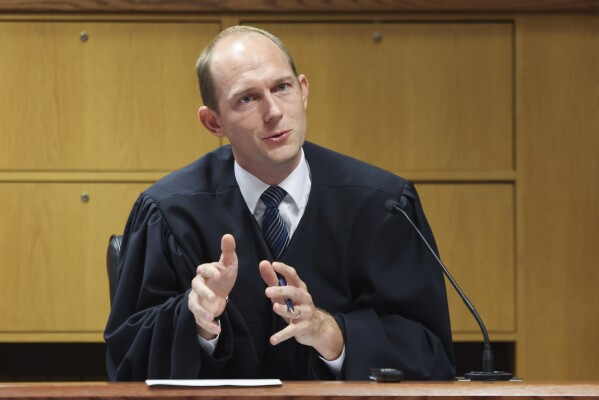 1 of 9 |
FILE – Fulton County Superior Judge Scott McAfee hears motions from attorneys representing Ken Chesebro and Sidney Powell in Atlanta on Wednesday, Sept. 6, 2023. Past high-profile trials suggest additional scrutiny and stress for the four judges overseeing the indictments against former President Donald Trump. But the challenge facing Fulton County Judge Scott McAfee in Georgia is unlike any of the others. (Jason Getz/Atlanta Journal-Constitution via AP, Pool, File)Read More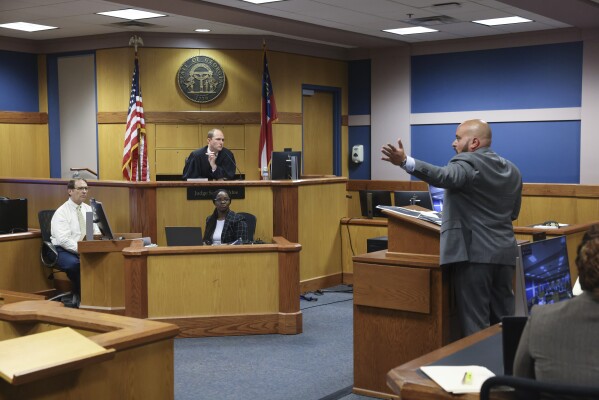 2 of 9 |
FILE- Attorney Scott Grubman, who is defending Kenneth Chesebro, argues before Fulton County Superior Judge Scott McAfee in Atlanta on Wednesday, Sept. 6, 2023. Past high-profile trials suggest additional scrutiny and stress for the four judges overseeing the indictments against former President Donald Trump. But the challenge facing Fulton County Judge Scott McAfee in Georgia is unlike any of the others. (Jason Getz/Atlanta Journal-Constitution via AP, Pool, File)Read More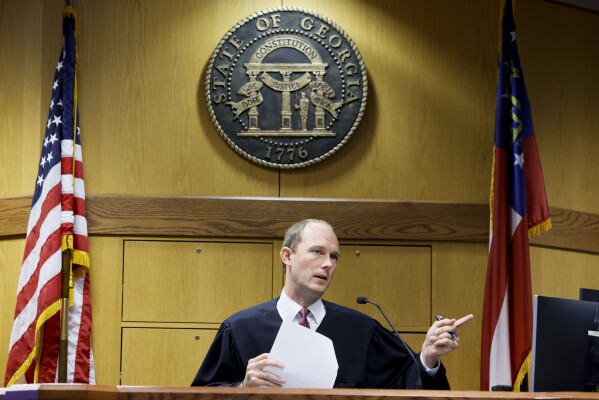 3 of 9 |
FILE – Fulton County Superior Court Judge Scott McAfee hears motions from attorneys representing Kenneth Chesebro and Sidney Powell in Atlanta on Thursday, Sept. 14, 2023. Past high-profile trials suggest additional scrutiny and stress for the four judges overseeing the indictments against former President Donald Trump. But the challenge facing Fulton County Judge Scott McAfee in Georgia is unlike any of the others. (Miguel Martinez/Atlanta Journal-Constitution via AP, Pool, File)Read More
4 of 9 |
FILE – Former President Donald Trump stands on stage before speaking at a Concerned Women for America Summit at the Capitol Hilton, Friday, Sept. 15, 2023, in Washington. (AP Photo/Andrew Harnik, File)
5 of 9 |
FILE – Hennepin County Judge Peter Cahill presides over the sentencing of former Minneapolis police Officer Derek Chauvin at the Hennepin County Courthouse in Minneapolis, June 25, 2021. "When you're in a high-profile trial, you feel the stress, you feel the pressure even if you're not reading the papers," Cahill told an audience of judges last year at The National Judicial College in Reno, Nev. (Court TV via AP, Pool, File)Read More
6 of 9 |
FILE – In this artists rendering, U.S. District Judge Reggie Walton talks with prosecutor Patrick Fitzgerald, center, with defense attorney's William Jeffress and Theodore V. Wells, as I. Lewis 'Scooter' Libby and defense team member K.C. Maxwell listen in Federal Court in Washington, March 5, 2007. (AP Photo/Dana Verkouteren, File)Read More
7 of 9 |
FILE – Judge Lance Ito gives instructions to the jury before all parties in the O.J. Simpson double murder trial depart on a tour of four prominent Brentwood sites in Los Angeles, Feb. 12, 1995. (AP Photo/Reed Saxon, Pool, File)
8 of 9 |
FILE – Florida Circuit Judge Elizabeth Scherer sentences Parkland shooter Nikolas Cruz at the Broward County Courthouse in Fort Lauderdale, Fla., Nov. 2, 2022. (Amy Beth Bennett/South Florida Sun-Sentinel via AP, File)
9 of 9 |
FILE – This artist sketch depicts Dominion Voting Systems attorney Justin Nelson, standing left, and Fox News attorney Daniel Webb, standing at right, speaking to Judge Eric Davis before finishing jury selection in Delaware Superior Court, April 18, 2023, in Wilmington, Del. (Elizabeth Williams via AP, File)Read More
BY SUDHIN THANAWALAUpdated 9:04 PM MST, September 24, 2023Share
ATLANTA (AP) — Judge Peter Cahill hardly slept during the six weeks he presided over the murder trial of Minneapolis police officer Derek Chauvin for killing George Floyd.
Cameras in the courtroom broadcast the veteran Minnesota judge's every word to a global audience. Outside, the nation waited nervously for the outcome of a slaying that galvanized the movement for racial justice.
"When you're in a high-profile trial, you feel the stress, you feel the pressure even if you're not reading the papers," he told an audience of judges last year at The National Judicial College in Reno, Nevada.
ADVERTISEMENT
Cahill's experience provides a glimpse of the additional scrutiny and strain that await the four judges overseeing the criminal cases against former President Donald Trump.
OTHER NEWS
The Supreme Court will hear a case with a lot of 'buts' & 'ifs' over the meaning of 'and'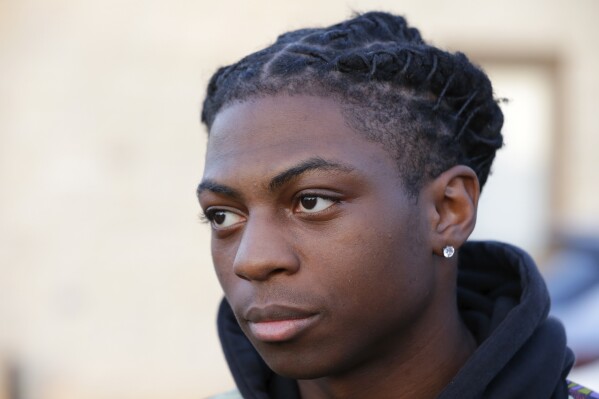 A Black student was suspended for his hairstyle. Now his family is suing Texas officials
A court in China sentences a famed Uyghur scholar to life in prison, foundation says
But the challenge facing Fulton County Judge Scott McAfee in Georgia is unlike any of the others. For one, he is the only judge so far to allow television cameras in the courtroom to broadcast hearings and any trials. He is presiding over a sprawling indictment with 19 defendants, among them other prominent figures including former New York Mayor Rudy Giuliani and Trump White House chief of staff Mark Meadows. And the trials will play out in a battleground state that Trump narrowly lost in 2020.
Attorneys who have worked alongside McAfee, who took the bench just this year, say his demeanor and years of work as a prosecutor have prepared him for heightened pressure. The judge's varied interests — he is an accomplished cellist and was a scuba diver at the Georgia Aquarium — should also provide relief from the stress of a long legal case.
But the experience of some judges who have been thrust into the public eye point to potential pitfalls and dangers ahead for the 34-year-old Georgia native. U.S. District Judge Aileen Cannon in Florida, who was nominated by Trump, has already faced sharp criticism for an early decision that favored the former president in his fight against charges he illegally hoarded classified documents.
High-profile cases lead to a "greater intrusion on your life," said U.S. Senior Judge Reggie Walton, who presided over the 2007 trial of I. Lewis "Scooter" Libby, a former top aide to Vice President Dick Cheney, and the 2012 trial of pitcher Roger Clemens.
ADVERTISEMENT
"Sometimes there'll be articles that may be written that may be off base," he said in a phone interview with The Associated Press. "They can create a little heartburn sometimes."
Los Angeles Superior Court Judge Lance Ito was accused of self-promotion for giving an interview during the O.J. Simpson trial in 1994. Critics also said he appeared too sensitive to criticism in the press and failed to control the proceedings, allowing the case to drag on for months and turn into a spectacle. "The Tonight Show with Jay Leno" mocked the trial with a skit featuring dancers in beards and black robes: the Dancing Itos.
In Florida, a judicial commission found Circuit Judge Elizabeth Scherer violated several rules governing judicial conduct during the penalty trial last year of Parkland school shooter Nikolas Cruz. Among them, she "unduly" chastised the lead public defender and improperly embraced members of the prosecution in the courtroom after sentencing Cruz to life without parole, the commission said. Scherer, who has since retired, told the commission she also offered to hug the defense team.
Delaware Superior Court Judge Eric Davis, who presided over Dominion Voting Systems' defamation lawsuit against Fox News, said he found even a laugh can be misconstrued.
"Sarcasm doesn't come across well. I learned that," he said at an American Bar Association meeting in August.
ADVERTISEMENT
The cases may also prompt safety concerns. Already some of the judges overseeing Trump's criminal cases have received threats. U.S. District Judge Tanya Chutkan, who is presiding over the federal election subversion case in Washington, has increased security after a woman was arrested for threatening to kill her.
McAfee did not respond to interview requests from The Associated Press. But in a sign that he understands the potential hazards ahead, he told The New Yorker he has no aspiration to become the next Ito or Judge Judy.
"The idea with my job, in general, is to keep your head down," he told the magazine. "Stay even-keeled and manage expectations."
Attorneys who know McAfee say he's ready for the challenge.
Although he's presided over few trials, McAfee's previous courtroom experience shows he has great confidence and poise, said Han Chung, an attorney who worked alongside McAfee at the Fulton County district attorney's office.
ADVERTISEMENT