BALANCE OF POWER: Where do the uncalled House races stand as GOP nears majority?
13 congressional races remain uncalled with control of the House hanging in the balance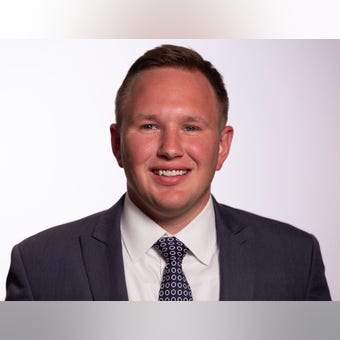 By Brandon Gillespie | Fox News
As Republicans are now one seat away from capturing a majority of seats in the U.S. House of Representatives, there are still 13 races yet to be called that will determine how close the margins could be for the GOP should it ultimately prevail.
A party must win 218 seats to win a majority in the 435-seat body, a feat appearing to be within the grasp of the GOP, who have won 217 seats so far to Democrats' 205.
Here is where the remaining races stand as votes continue to be counted in states across the country:
AK-AL – Alaska's At Large Congressional District has been rated by Fox News' Power Rankings as "lean Democratic" due to the state's newly implemented ranked-choice voting system giving incumbent Democrat Rep. Mary Peltola an advantage against her Republican opponents, former Gov. Sarah Palin and Nick Begich. Peltola lead in the first round of the vote, with Palin in second and Begich in third, but failed to secure 50%, meaning those who voted for the candidate with the least number of votes will have their second choice vote reallocated to the other candidates until one reaches 50%. The second round tabulation is scheduled to take place on Wednesday, Nov. 23.
FOX NEWS' 2022 HOUSE ELECTION RESULTS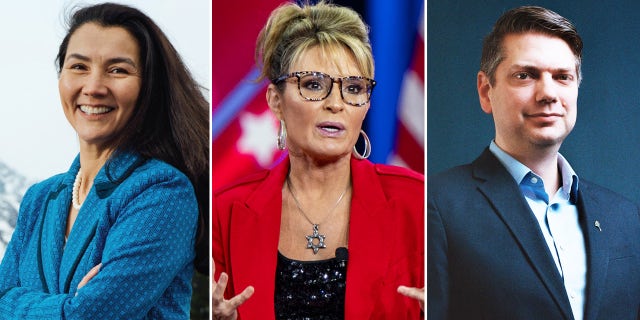 Alaska congressional candidates, from left, Democrat Mary Peltola and Republicans Sarah Palin and Nick Begich. (Brandon Bell, Mary Peltola campaign, Ash Adams for The Washington Post via Getty Images)
ME-02 – Maine similarly implemented a ranked-choice voting system following a state-wide referendum in 2016. Incumbent Democratic Rep. Jared Golden failed to reach 50% of the vote last week, but is currently leading former Republican Congressman Bruce Poliquin, who represented the district from 2015 to 2019. The second round tabulation is scheduled for Tuesday, Nov. 15. Fox News' Power Rankings has rated the race as a toss-up.
REPUBLICANS SET FOR CHAOTIC WEEK OF LEADERSHIP ELECTIONS AMID DISCONTENT WITH PARTY BOSSES
CA-03 – Republican Kevin Kiley holds a commanding lead over Democrat Kermit Jones; however, approximately only a little over half of ballots have been counted in the "likely Republican" race. California accepts mail-ballots for the week following Election Day, although the ballots must be postmarked by Election Day. The ballots must also go through a signature verification process before being counted.
CA-06 – Incumbent Democratic Rep. Ami Bera is leading Republican challenger Tamika Hamilton in this seat considered to be safe Democrat.
CA-09 – Incumbent Democratic Rep. Josh Harder holds a large lead over Republican challenger Tom Patti in this "lean Democratic" seat.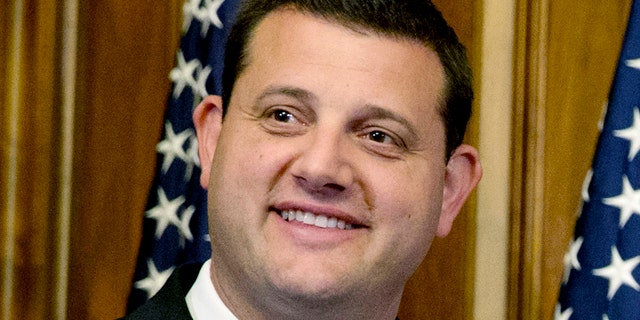 Rep. David Valadao, R-Calif., poses during a ceremonial re-enactment of his swearing-in ceremony in the Rayburn Room on Capitol Hill on Jan. 6, 2015. (AP Photo/Jacquelyn Martin, File)
CA-13 – This toss-up race is among the tightest remaining as Republican John Duarte narrowly leads Democrat Adam Gray by less than 800 votes.
CA-21 – This safe Democratic seat is still yet to be called due to the ongoing vote count; however, incumbent Democratic Rep. Jim Costa leads Republican challenger Michael Maher by more than 7,000 votes.
CA-22 – In another tight race, incumbent Republican Rep. David Valadao leads Democratic challenger Rudy Salas by more than 3,000 votes. Fox News' Power rankings has rated the race as a toss-up.
SCHUMER REACTS TO KEEPING SENATE CONTROL: 'VICTORY AND VINDICATION' FOR DEMOCRATS AND AMERICA
CA-27 – Incumbent Republican Rep. Mike Garcia holds a commanding lead over Democratic challenger Christy Smith by a little more than 13,000 votes in the "lean Republican" seat.
CA-47 – Incumbent Democratic Rep. Katie Porter leads Republican challenger Scott Baugh by less than 3,000 votes in this toss-up race.
CA-49 – This toss-up race currently has incumbent Democratic Rep. Mike Levin leading Republican challenger Brian Maryott by a little more than 13,000 votes.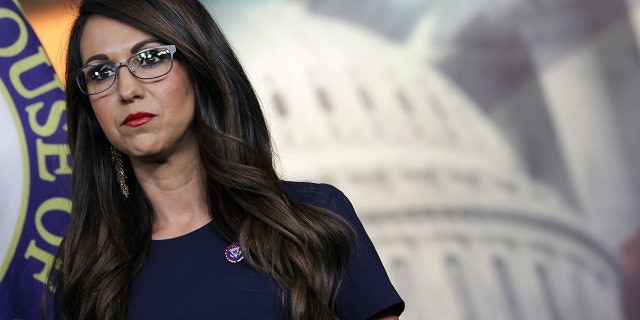 Rep. Lauren Boebert attends a House Second Amendment Caucus press conference at the U.S. Capitol on June 8, 2022. (Kevin Dietsch/Getty Images)
CO-03 – Incumbent Republican Rep. Lauren Boebert was not expected to have such a close race with her Democratic opponent, Adam Frisch, in the "likely Republican" seat, however, the one-term congresswoman is narrowly leading the vote count by a little more than 1,000 votes. Mail-in ballots from out of state and overseas military service members can arrive as late as Wednesday as long as they were postmarked by Election Day, meaning the count could continue into later this week.
CLICK HERE TO GET THE FOX NEWS APP
CO-08 – Democratic candidate Yadira Caraveo narrowly leads Republican candidate Barbara Kirkmeyer in this "lean Republican" race, but, like the 3rd District race, mail-in ballots can arrive from overseas or out of state as late as Wednesday if they were postmarked by Election Day.
Brandon Gillespie is an associate editor at Fox News. Follow him on Twitter at @brandon_cg.
Sponsored Stories You May Like
Republican New Hampshire Gov. Chris Sununu calls 2022 midterm results a 'rejection of extremism'
Boebert Colorado House seat may come down to recount against Democratic challenger
[Photos] Kari Lake's Partner Might Look Familiar To YouSport Pirate
Add This To Your Toothpaste To Help Regrow Gums in a Few DaysDental Hacks
Arizona Approves New Pain Relief 'Gummy' For Public UseHealth Headlines
Top US Men's Surgeon: Do This Once Daily To 'Shrink' Enlarged Prostateprostanews.com
[Gallery] Late Night Show Guests Who Made It Hard To Look AwayYourBump
Average Retirement Savings By Age: Are You Normal?SmartAsset
Clark County, Nevada, says 22,000 mail-in ballots being counted, results expected Saturday evening
Candace Owens latest Trump supporter to question Republican loyalty to former president ahead of 2024
Republican Party 'is dead' after major midterm election losses in Arizona, Pennsylvania, Nevada: Hawley
Texas' Caroline Harris becomes youngest Republican woman ever elected to the state House
Sponsored Stories
Arizona Will Cover Cost to Install Solar Panels in These Zip CodesEasySolar
Banned For 84 Years; Powerful Pain Reliever Legalized In Arizonabehealth.space
37k Five Star reviews for Ka'Chava! Try it!Ka'Chava
Audi Offers Major Incentives For Leftover 2022 InventoryAudi Deals | Search Ads
Did You Know That Medicare Offers 5g Phones For Seniors?Cell Phones For Seniors | Search Ads
Arizona Gov't Will Cover The Cost To Install Solar If You Own A Home In These Zip Codesfinancedaily.org
More From Fox News
Paul Pelosi attack: New federal indictment reveals what suspect was wearing when police arrivedFox News
Arizona gov election: Katie Hobbs defeats GOP challenger Kari Lake, race may now go to recount under state lawFox News
Arizona governor candidate Kari Lake: Cannot 'be the laughingstock of elections anymore'Fox News
Violent murder stuns India, police say killer was inspired by popular US crime seriesFox News
Fans slam 'Jeopardy!' for 'tasteless' clueFox News
Eric Swalwell's 'stupid' education tweet may cost Democrats in 2024Fox News
More From Fox News
D.B. Cooper expert: New evidence points to person of interest in unsolved case
Dallas air show collision: Who are the 6 victims killed?
Kevin Costner learns 'Yellowstone' election results, discusses his own political views: 'I'm disappointed'
Karl Rove: Republicans poised to take House
University of Idaho homicides: What to know about the 4 victims allegedly killed near campus
Arizona middle school teacher resigns 'under pressure' after pornographic OnlyFans account surfaces
Midterm election results: These key races have yet to be called
Liberals suggest Liz Cheney should be speaker of House but not everyone agrees
Trump blasts Maricopa County after Arizona Sen. Mark Kelly defeats Blake Masters: 'Do Election over again!' | Fox News
Conversation10.8K Comments
2.3K Viewing
15
View 5 new comments
Sort by Best
Show More Comments

Election season is here! Get the latest race updates, exclusive interviews, and more Fox News politics content.
Arrives Tuesdays
More From Fox News
Newt Gingrich: Transfer of House speakership from Pelosi to McCarthy is the 'biggest single moment'
Emma Thompson says she was 'utterly blind' to ex-husband Kenneth Branagh's affair with Helena Bonham Carter
Nevada Supreme Court greenlights hand-count, despite objections
Trump blasts Maricopa County after Arizona Sen. Mark Kelly defeats Blake Masters: 'Do Election over again!'
Tomi Lahren on what's most disappointing about midterm losses
Could nail-biter Nevada Senate race where GOP candidate Laxalt leads by 800 votes go to recount?
More from Politics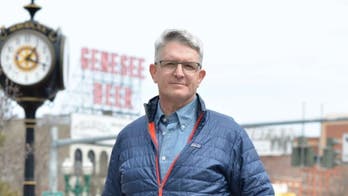 33 mins ago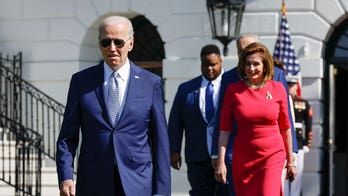 57 mins ago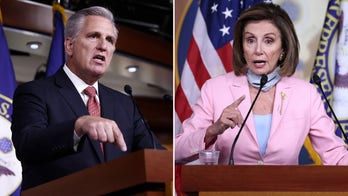 1 hour ago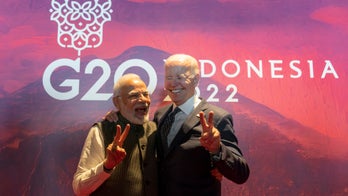 1 hour ago
Promoted
El Salvador president says US now feels less safe than his third-world country: 'It's unthinkable'
Other
This material may not be published, broadcast, rewritten, or redistributed. ©2022 FOX News Network, LLC. All rights reserved. Quotes displayed in real-time or delayed by at least 15 minutes. Market data provided by Factset. Powered and implemented by FactSet Digital Solutions. Legal Statement. Mutual Fund and ETF data provided by Refinitiv Lipper.