100 days from launch: NASA's Mars rover Perseverance gets its wheels, parachute
By Mike Wall published April 08, 2020
Percy will be leaving Earth before you know it.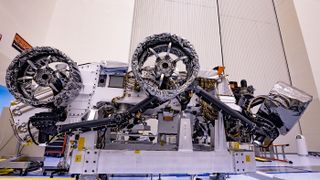 Three of the six flight wheels that will travel to Mars can be seen attached to NASA's Perseverance rover (which is inverted on a handling fixture) on March 30, 2020 at the Kennedy Space Center in Florida. The protective antistatic foil covering the wheels will be removed before launch this summer. (Image credit: NASA/JPL-Caltech)
We're just 100 days out from the launch of NASA's next Mars rover.
Perseverance, the car-size robot at the heart of NASA's life-hunting Mars 2020 mission, is scheduled to lift off from Florida's Cape Canaveral Air Force Station during a three-week window that opens on the morning of July 17 — 100 days from today (April 8).
So NASA has been working hard recently to get Perseverance into launch shape. On March 26, for example, technicians finished installing the rover's parachute system. The chute will slow the 2,260-lb. (1,025 kilograms) Perseverance from Mach 1.7 to just 200 mph (320 km/h) in Mars' thin air on landing day, which will be Feb. 18, 2021, no matter when the mission lifts off during this summer's window. (Mach 1.7 is 1.7 times the speed of sound, which is about 767 mph, or 1,235 km/h, at sea level here on Earth.)
2022's Standout Business Credit Cards – Deals That Outshine The RestNerdWallet
More: NASA's Mars 2020 rover Perseverance in pictures
https://platform.twitter.com/embed/Tweet.html?creatorScreenName=SPACEdotcom&dnt=false&embedId=twitter-widget-0&features=eyJ0ZndfZXhwZXJpbWVudHNfY29va2llX2V4cGlyYXRpb24iOnsiYnVja2V0IjoxMjA5NjAwLCJ2ZXJzaW9uIjpudWxsfSwidGZ3X3JlZnNyY19zZXNzaW9uIjp7ImJ1Y2tldCI6Im9mZiIsInZlcnNpb24iOm51bGx9LCJ0Zndfc2Vuc2l0aXZlX21lZGlhX2ludGVyc3RpdGlhbF8xMzk2MyI6eyJidWNrZXQiOiJpbnRlcnN0aXRpYWwiLCJ2ZXJzaW9uIjpudWxsfSwidGZ3X3R3ZWV0X3Jlc3VsdF9taWdyYXRpb25fMTM5NzkiOnsiYnVja2V0IjoidHdlZXRfcmVzdWx0IiwidmVyc2lvbiI6bnVsbH19&frame=false&hideCard=false&hideThread=false&id=1247624682955624449&lang=en&origin=https%3A%2F%2Fwww.space.com%2Fmars-rover-perseverance-wheels-parachutes.html&sessionId=fb233516f1eda1d891c8fac55a0859aad081d374&siteScreenName=SPACEdotcom&theme=light&widgetsVersion=b45a03c79d4c1%3A1654150928467&width=550px
See more
Perseverance got its six wheels just a few days later, on March 30, NASA officials said. These wheels — the mission's final flight versions, not the test ones that Percy used to take a spin in December 2019 at NASA's Jet Propulsion Laboratory (JPL) in California — are slightly different than the ones aboard Perserverance's predecessor, the Curiosity rover.
"Machined out of a block of flight-grade aluminum and equipped with titanium spokes, each wheel is slightly larger in diameter and narrower than Curiosity's, with skins that are almost a millimeter thicker," NASA officials wrote in a statement on Friday (April 3).
"They also feature new treads, or grousers: In place of Curiosity's 24 chevron-pattern treads are 48 gently curved ones," they wrote.
Click here for more Space.com videos…
0 seconds of 15 secondsVolume 0%
Ad 1 of 2. This video will resume in 14 seconds
PLAY SOUND