Gunman who killed El Monte police officers faced probation violation at time of shooting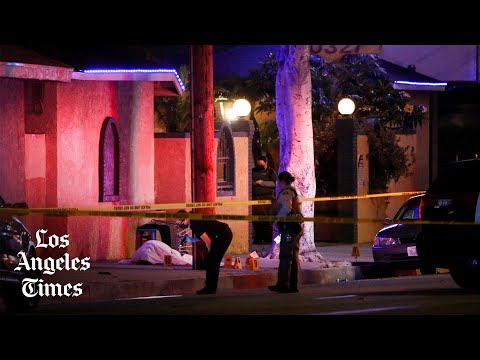 The shooting occurred near Central and Garvey avenues in El Monte, authorities said. One suspect was also killed.
BY RICHARD WINTON,
ANDREW J. CAMPA, MATTHEW ORMSETH, NATHAN SOLIS
JUNE 15, 2022 UPDATED 7:13 PM PT
The man who killed two El Monte police officers was on probation for illegally carrying a gun when he fired on the officers as they responded to a call for service at a motel Tuesday, court records show.
A day after Cpl. Michael Paredes and Officer Joseph Santana were shot to death, stunning many in this San Gabriel Valley suburb that has worked hard to distance itself from the violence that plagued it decades ago, a clearer picture emerged of the man who authorities say killed the officers before being shot to death himself.
Law enforcement sources identified the gunman as Justin Flores, 35. Arrested in 2020 and charged with possessing methamphetamine, a handgun and ammunition, Flores pleaded no contest in February 2021 to possessing a firearm as a felon, records show. Prosecutors dropped the other charges.
Flores, who previously served two prison terms for burglary and car theft, had been prohibited from carrying a gun since 2011.
Though the gun conviction alone could have sent him to prison for three years, Flores was instead sentenced to two years' probation and 20 days in jail, which he'd already served, a prosecutor said at a plea hearing. Flores was ordered not to possess any weapons, including guns, ammunition and knives, a transcript of the hearing shows. He was warned that if he breached these terms, he could be sent to prison for up to three years.
ADVERTISEMENT
On Monday, a day before the shooting, Flores' probation officer filed a request in court for a revocation hearing, listing the reason as "desertion." Two law enforcement sources familiar with the investigation said his girlfriend reported he had assaulted her last week, triggering a probation violation, but Flores was not taken into custody. A hearing was set for June 27.
Asked why Flores wasn't arrested on the violation, Karla Tovar, a spokeswoman for the Los Angeles County Probation Department, said the agency was "currently investigating the matter further."
June 15, 2022
Around 4:30 p.m. Tuesday, Paredes and Santana responded to a report of a stabbing at the Siesta Inn, a single-story, stucco motel on Garvey Avenue.
What exactly happened next remains unclear, but a source familiar with the incident said the officers came under fire after knocking on the door to one of the motel's rooms.
Capt. Andrew Meyer, who leads the Los Angeles County Sheriff's Department's Homicide Bureau, said that after an exchange of gunfire in the room, Flores ran out into a parking lot, where the officers fired again.
Paredes and Santana were taken to L.A. County-USC Medical Center, where they died. Flores died at the scene. Meyer said a gun was found near his body.
Although El Monte Mayor Jessica Ancona had said the officers were "essentially ambushed," Meyer would not say whether the officers were attacked immediately upon arriving at the motel.
"We don't have all the facts yet," he said Tuesday night, standing outside the hospital where Paredes and Santana died.
Paredes started as a cadet with the department and in July 2000 was sworn in as a full-time officer. He is survived by
40 total views